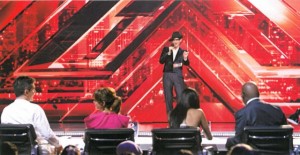 In this month's Vogue, Hamish Bowles chronicles an assignment – given to him by Anna Wintour – to audition for X-Factor US (page 198!). And I quote…

"You can sing," says Anna, who has heard me warble some comedic Noel Coward songs at The Rug Company during Fashion's Night Out. "This will be easy for you." Her enthusiasm buoys me along, until a moment over dinner at the Metropolitan Opera … when she insouciantly announces that she is, in fact, completely tone deaf.
Hamish consulted Liza Minnelli and Cheyenne Jackson before deciding to audition to the ultimate power ballad, Miss Britney Spears' "Oops! … I Did It Again". In his actual audition, he stood outside the Prudential Center in Newark like 'the normal people' in a not-so-normal gold Mugler suit and Christian Louboutin shoes under the pseudonym "Leo Mercuré". He didn't pass the auditions.
"Isn't that the guy who owns Vogue?" asks one of the security guards. "Wicked shoes."

Alice Temperley gave a few interviews post-London Fashion Week and has insisted that the five-day-long LFW needs to be extended from the shortest of the international four as "London's better than New York Fashion Week now".

Stella McCartney has designed the costumes for New York City Ballet's new production, opening today. The ballet's music score was penned by her Superdad, Paul McCartney. The designer has shared that the collaboration with the ballet and her father is "emotional" but that "on another side, I know and understand I am working with Paul McCartney."

During London Fashion Week, Sienna Miller was a half an hour late to Matthew Williamson's show for Spring/Summer 2012. As the designer is Sienna's personal friend, he held the show for her, which apparently annoyed Anna Wintour so much she was getting up to leave as the show started.

London Fashion Week on Acid. That's all I can muster to say about that.

Dolce & Gabbana has just announced that today's Spring/Summer 2012 show for its D&G diffusion line was the label's last…ever! Both sources that were close to the designers as well as Italian retailers have said that the two lines were "cannabalizing" each other. How? They were too close in price.

In Dolce & Gabbana's official statement, the designers have stated that mixing D&G back into their signature line would give "even more strength and energy to our collections".