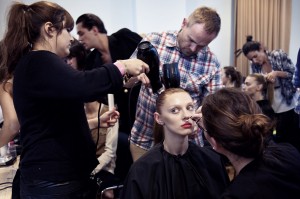 I absolutely adore Nicole Farhi and was more than excited to be invited backstage before and after her Spring/Summer 2012 collection was presented to the Fashion World. That excitement was positively set on fire when Anna Wintour decided Farhi's show would be her first of London Fashion Week.
To do the collection justice, I have collaborated with my favourite photographer and friend, Eva K Salvi, to bring you some stunning photos and a diary-based review:
12pm – I get to the Horticultural Society, running, thank god I brought my pair of All Saints Boots with me and not my Kurt Geiger heels like I did the previous day. The sun is peaking through the clouds. I finally get into the venue which is already packed with photographers and videographers, everyone is setting up and running around. Nicole Farhi is chatting to people, posing for a few photos, she seems incredibly calm and relaxed. The venetian blinds close and the models start coming out on the catwalk for the run-through, it is strangely surreal to watch them walking with their hair and makeup half done.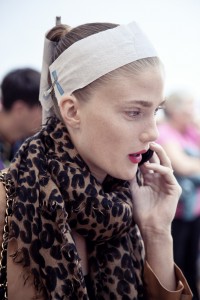 12.30pm – Go through to backstage area after being checked on 'The List'. I get in and am hit with the realisation of how intense everything is "behind the scenes". Everyone is running around, the models are getting their makeup and hair touched up. From time to time, one model will just stop and pose for photographers – there's about 10 backstage – with assistants and reflectors etc. Everyone is super prepared.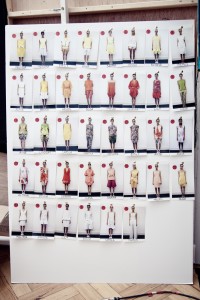 1pm – Last call for models to go to the bathroom before the show, last touch ups, then everyone has to get runway-ready. The models start changing and I go out to the main room; rumour is Anna Wintour is there and I spot her sitting in the front row. I quickly run over and snap a few pictures before the show starts. All of the photographers have taken place in the pit and are currently "fighting" over the best spots to snap pictures of the show. I decide to run to the other side of the catwalk that seems much emptier and take place. The show starts.
1.15pm – I see half the show through my lens and try to snap pictures of almost all the outfits, the music is loud and the models are rocking the show. The show is a resplendent rainbow of pastels. I'm loving it and glance at Anna Wintour – wondering whether she's enjoying herself or not – but the Miranda Priestly-esque stillness shows no sign of opinion (or maybe that means she loves it?).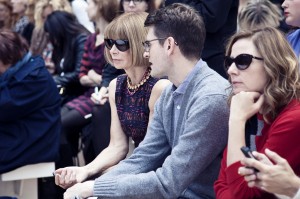 As for the clothes, everything was texturally divine. In a sea of beautifully feminine colours, Farhi presented an oversized, sequin-covered mesh tank top and a micro mesh ensemble with gorgeous florals that almost seemed three-dimensional when layered over the coloured base fabric. Interestingly, more and more saccharine 3-D embellishments were brought to life via plastic blossom appliques, sculptural petal shapes, and laser-cut leather flowers. It was like a pointillist painting by Georges Seurat – a garden brought to life.
Heaven.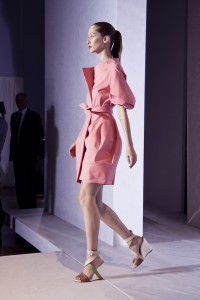 When the show is over, everyone stands up, massive round of applause for Nicole Farhi who comes out for a few seconds to salute everyone, she seems sweetly satisfied, the show went extremely well to say the least.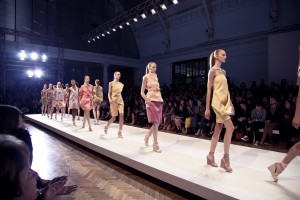 1.45pm – I go back backstage, the magic is gone, everyone is packing up, grabbing that last cup of coffee/bottle of Vitamin Water and are already on their journey to the next show. I recognise a few familiar faces, people I've worked with before, everyone seems relieved, everything went well and everyone loved the show.
2pm – I'm out and on my way to Somerset House, knackered already, those 2 hours drained me of all my energy! The sun has come out to give us our last few hours of summer, perfect ending to an extraordinary show.
See more photos below! Enlarge them all!