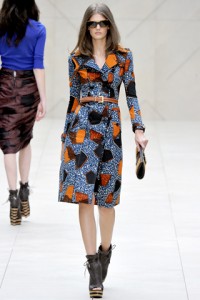 Award for the most tech-savvy show of Spring/Summer 2012? Unless someone in Milan or Paris pulls out a teleporation device, it's going to have to be Burberry. Not only were my favourite Fashion Week travellers in attendance (Kanye West, Sienna Miller, Rosie Huntington-Whiteley, Anna Wintour, Olivier Theyskens, Rachel Zoe, and Mario Testino), but the rest of the internet seemed to be in attendance too. There was a Tweetwalk, live stream, and instant online shopability for the collection (though the pre-orders won't be mailed for six months). An excellently digital production.
And then there were the clothes. In reflect, it looks like designer Christopher Bailey was heavily influenced by London's non-existent summers, as it was the darkest colour palette of the entire week and had a gorgeous abundance of plum and teal trenchcoats that were styled with incredibly detailed, wide belts. Patterns were large, rustic, and that tribal trend definitely found it's way in.
The key anchor to this collection? Time. Time spent on constructing basket-woven sleeves, raffia hoods and beaded collars. Time spent on perfecting the ideals around pattern-complimentary wedges and oversized handbags. Time that equals justified pricepoint.