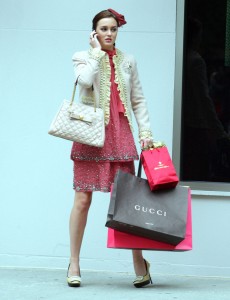 As the latest season of Gossip Girl continues with filming, I am looking forward to seeing more and more of Blair Waldorf's stylishly prim ensembles before they hit the small screen. THe latest look (seen above) was comprised of a nude Moschino ruffle pearl tweed jacket, an Alberta Ferretti embellished neck-tie chiffon dress, Roger Vivier platform court heels, and the all-important Marc Jacobs quilted handbag.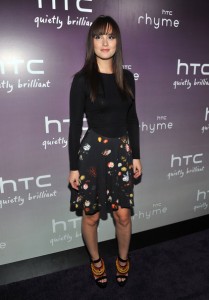 My favourite look of the week, however, comes from Leighton Meester when she attended the "HTC Serves Up NYC" product launch event at the Highline Stages in New York City.
Not only did Leighton wear the very first red carpet appearance of Marios Schwab's Resort 2012 collection (the long-sleeved black dress with the aquatic graphic-print skirt), but she also wore the Burberry Prorsum Resort 2012 tribal heels that showed up on the runway at London Fashion Week just this past Monday! Oh, closet lust, you are my inevitable downfall.