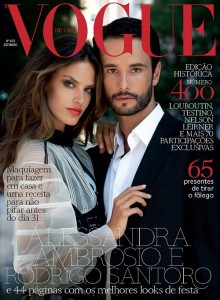 I am lusting over the pairing of Alessandra Ambrosio and Rodrigo Santoro on the December covers of Vogue Brasil, as shot by Eric Guillemain.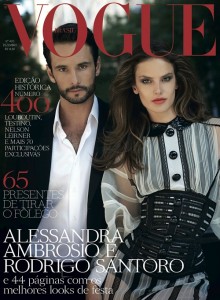 Fashion Week's Autumn/Winter 2012 drama seems to be making some headway! After the "Fashion Gods" in Milan threatened to show at the same time as both New York and London, New York have now offered to pull their September 2012 dates back a week to accommodate the new Italian schedule.

From there, Italy was said to have agreed to change their schedule to suit New York Fashion Week beginning on the second Thursday in September, going forward.

For the apparent 'final' decision, the statement below has been released:
Confirm the previous schedule for September 2012 with New York fashion week starting on Thursday 6 of September, followed by London, Milan and Paris Agree for the next two years ( September 2013 and September 2014) with the proposal of Diane Von Furstenberg, President of Council of Fashion Designers of America, to start New York Fashion Week on the second Thursday of September, that is to say on September 12th in 2013 and on September 11th in 2014.

2.a New York's last day should be on September 18th in 2013 and on September 17th in 2014 in order to allow London an additional day for the presentation of the menswear collections.

2.b. Paris will accept this structure and follow Milan as always, starting on Wednesday 2nd of October in 2013 and on Wednesday 1st in 2014

In case those conditions didn't happen, the above mentioned solution could not be applied.

Camera Nazionale della Moda Italiana is looking forward to receiving a feedback(sic) from New York, London and Paris.
Drama, drama, drama…

Today, AdWeek have released some very interesting statistics on shoplifting, ie. 1 in every 11 shoppers shoplift. (Really?!)

Not only that, but 75% of shoplifters are said to be employed adults, and cost the U.S. $119 million dollars per year. Items that are often confused for a five-finger discount include alcohol, sneakers/trainers, women's perfume, and – at the top of the list – filet mignon.

This has to be a joke.