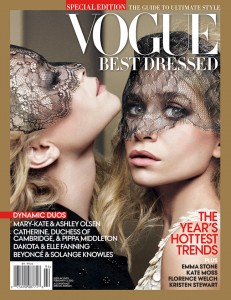 A well-deserved "FINALLY" goes to the Olsen Twins for their Craig McDean-lensed cover of Vogue's Best Dressed issue 2011. They've been in fashion's public eye for almost their entire life, guys!
"They (the Olsens) get it right a lot of the time and then sometimes they don't get it right. That's actually great because it shows that it's their hands reaching into their wardrobes. They don't have someone telling them, 'This is cool, this is hot, this is what you should be wearing.' It comes from within them. It's instinctual. […] Look at what they've done with (their fashion labels) The Row and Elizabeth and James. They are legitimate fashion forces."
– Vogue's Fashion News Director, Mark Holgate
Including them in the issue – as it is dedicated to international superstar siblings – is Beyonce and Solange Knowles, Kate and Pippa Middleton, Claire and Virginie Courtins-Clarins girls, Kate and Rooney Mara (no bad blood, she got last month's cover!), Dakota and Elle Fanning, Poppy and Cara Delevigne, and Jane Birkin's gorgeous daughters – Lou Doillon and Charlotte Gainsbourg.
FASHION PHEW! The issue will be released in five short days.
To see more photos of Mary-Kate and Ashley from the spread, as well as their latest and greatest promo video for StyleMint (imagine planking, storking, 'plowling' and owling in It's a Wonderful Life, National Lampoon's Christmas Vacation, Charlie Brown and The Wizard of Oz!), see below!