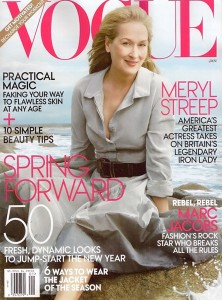 Well I certainly didn't imagine Meryl Streep would be Vogue's cover model for their first issue of 2012! The 62-year-old Academy Award-winning actress was snapped up by Annie Leibovitz for the January issue – wearing a dove grey Carolina Herrera dress coat – in efforts to promote her upcoming film "The Iron Lady", where Meryl plays Margaret Thatcher.

Rumours are spinning that British model Alice Dellal is – unofficially – the new face of Chanel's handbag campaign.

Jessica Chastain showed up to the closing ceremony of the 2011 Marrakech Film Festival – of which was was a jury member – wearing the most gorgeous Viktor & Rolf Spring/Summer 2012 dress. This marks our first look at this collection on the red carpet, with the simple addition of the Sergio Rossi 'Boidea' nude, satin open toe pumps with Swarovski crystal embellishments.
A tight ponytail and dark pink lips completed her look.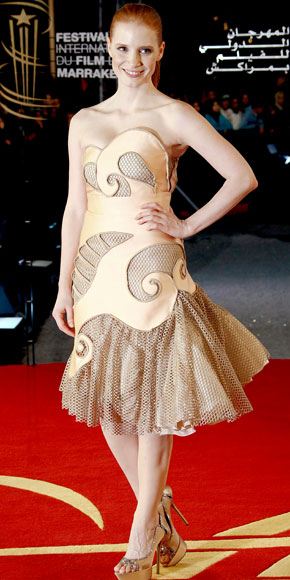 Michael Burke, the current CEO of Fendi, is moving to Bulgari.

Though no official statement has been made, friends have confirmed that that 26-year-old model Sasha Pivovarova is three-months pregnant with her and Igor Vishnyakov's first child! She is planning to take a yearlong break from the industry to 'be a mom'.

And the Christian Dior rumours keep on keeping on! The inside industry is now convinced that Jil Sander's lovechild, Raf Simons, is going to be taking over the fashion house. Of course, "several key details" have yet to be worked out first.

I was pretty sure Raf's place at Jil Sander was just extended after six years?

Sephora have hired Prabal Gurung to design new uniforms for their employees. Now, I wan't a job at Sephora.

After a few anonymous intern "horror stories" circled the web last week, someone seems to have been a little too open in their anonymity:

"My first fashion internship was in the PR department for a beloved British designer. One of her best friends, a well known supermodel, was fronting her spring campaign. I thought getting the designer, the model and the famous photog to St. Barth's on the same plane on the same day for the same 12 hours was a nightmare, but then the clothes came back post-shoot. Turns out the model, who was in the midst of a drug scandal, couldn't quite hold it together and the white sample suit was soaked in pee."
Sadly, a Google and a little fashion intuition later (British designer, supermodel, shoot in St. Barth's), the internets would easily suggest the incident happened at a shoot for a Stella McCartney campaign starring Kate Moss. See below.