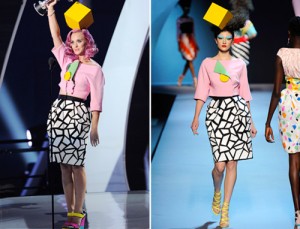 Last night's MTV Video Music Awards (aka The VMAs) was a fashion trainwreck. While our beloved Jo Calderone took over the show with his/her bad boy style, many of the stars and starlets on the red carpet were cake-faced and unflatteringly styled. Since I'm not one for the personal attacks, how about we go through the best of the rest?
Let's kick off with Katy Perry! The beautiful, pink-haired singer donned a Christian Dior Fall/Winter 2011 Couture ensemble which was comprised of a pastel pink top with an oversized yellow button and mint green lining on top and a black and white tulip-shaped skirt with a broken glass print on bottom. Bizarrely, though the collection had a terrible reception from the industry, it looks pretty perfect on Perry.
The sprinkles on top were in the form of a yellow Philip Treacy hat/sqaure that strongly resembled the Commonwealth bank cube. The super sprinkle? A pair of multi-coloured Giuseppe Zanotti wedges. Comical couture: The Next Big Thing?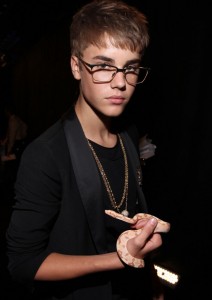 Then there was Justin Bieber. His outfit wasn't all too impressive – black blazer, red pants, gold chains, Terry Richardson glasses – until you got to his hand: a small white snake.
Entertainment Weekly quizzed him on his elaborate accessory:
EW: What your snake's name?
Justin Bieber: Johnson.

EW: Johnson! You dirty boy!
Bieber: I know. [laughs]

EW: Dude, your Johnson is small.
Justin: [Laughs and shakes his head.]

EW: What is he?
Justin: It's a boa constrictor. It'll get like four feet. It's gonna get big.

EW: Has he peed on you yet?
Justin: No. I hope not!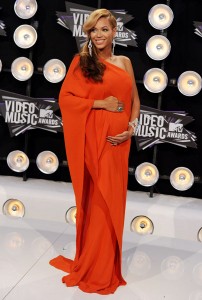 Your eyes aren't fooling you…it's not one too many cheeseburgers…Beyonce Knowles used the 2011 MTV Video Music Awards to announce her pregnancy! Obviously, the superstar glow is only going to get more envious. The mother-to-be was beaming with pride in a bright orange, one-shoulder silk crepe Lanvin Fall/Winter 2011 gown.
It the most intelligent co-ordination of the night, she paired the one-hued piece with bold Lorraine Schwartz jewels in the form of white diamond and platinum tassel earrings and an emerald ring. Her ivory Rene Caovilla platforms were also covered in Swarovski crystal and pearl details.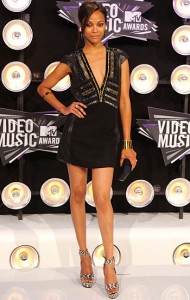 Zoe Saldana's stylist also had her eye on the prize last night. A chic updo and smokey eye kicked off the mood as it led down to a sexy LBD from Barbara Bui's Fall/Winter 2011 collection. The tweed minidress was embellished with gold and silver military-style details and leather panels. Sticking with the Bui, she added from snake-skin heels and a black clutch from the same designer, as well as Lorraine Schwartz jewels (diamond
 earrings, a diamond 
Elephant
 ring,
 a black 
Sapphire
 and
 diamond
 bangle, and a yellow
 gold 
and onyx bracelet).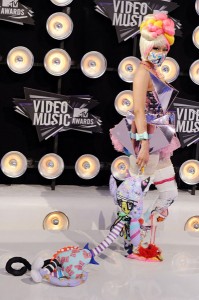 Nicki Minaj wears Transformers meets Alice in Wonderland. I honestly have no clue, but I love her.