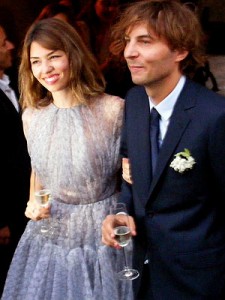 Sofia Coppola got married to (Pheonix frontman) Thomas Mars! The blushing bride wore a gauzed-out lavender print wedding dress by Azzedine Alaïa and had her hair wavy and unstyled with a red lip to ice the cake. The groom wore navy and Big Daddy (Francis Ford Coppola) wore a white linen suit and pink shirt.
Isaac Mizrahi has announced he won't be showing at NYFW. He let us know – via video blog – that he will be putting out a lookbook instead, joking that it sounds "more modern…for about one second. Next season we'll be planning our fabulous Lollapalooza fashion show in 3D."
Karl Lagerfeld is releasing a fragrance called….wait for it…Karleidescope. LOLZ aside, the fragrance is set to be "ultra feminine" and will include notes of violet, patchouli, angelica and freesia that are rumoured to smell different on each woman.
Miranda Kerr's beauty secret? Four teaspoons of coconut oil, taken orally. Now you know. Have a brilliant time trying to locate it after a Victoria's Secret model endorses it. ;)
Almost 300 Cambodian workers fell sick this week at a garment factory that produces goods for Swedish fashion brand H&M. A total of 284 employees collapsed on Tuesday and Thursday at M&V International Manufacturing Ltd in Kompong Chhnang.
Zac Posen is taking his show back to New York after moving to Paris a year ago to show his eponymous collection to the European audience. His Spring/Summer 2012 offering will be shown at Lincoln Center's Avery Fisher Hall on September 11th. As always, the New Yorker's diffusion line – Z Spoke by Zac Posen – will be shown in his hometown, as well.
Following the raging success of the "Alexander McQueen: Savage Beauty" exhibit, the Metropolitan Museum of Art is suggesting the Costume Institute's the 2012 exhibit will revolve around Miuccia Prada and Elsa Schiaparelli and will open next Spring. OH, YES.