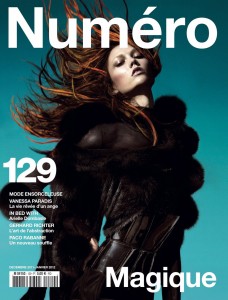 Karlie Kloss is having one hell of a good year. To top off many-a-model accomplishment, the Next model is werrrrking it on the cover of Numero's December/January issue – lensed by Greg Kadel and styled by Elizabeth Sulcer.

After her newest resort collection dropped this week, style icon Chloë Sevigny has kindly invited the interwebs into her East Village garden flat. The inadvertently promotional film weaves through her – very impressive – closet, and displays the original bunny ears from Gummo, sketches for Oscar dresses by Alber Elbaz, S&M dog collars, and lots of Chloë for Opening Ceremony (obviously).




With no reason given, Cynthia Steffe's creative director and executive vice-president – Shaun Kearney – has "amicably" stepped down from his position. No successor has been announced as of yet, though the label says it will definitely not stop here.

Bruce Weber has turned out a beautiful cover for the December issue of Vogue Spain. Though there is no rhyme or reason for it, model Dree Hemingway is codling a baby while wearing couture and a ripped t-shirt (Balmain or Target? Who knows).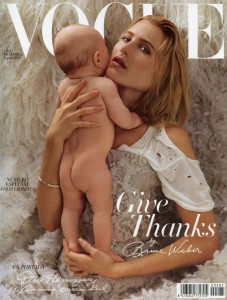 H&M have been 'found out' in regards to using completely digitally-created bodies on their ads and website. H&M press officer Håcan Andersson confirmed that their new lingerie-clad bodies are "completely virtual", and that they use "facial models" to superimpose normalcy onto the click-and-go body forms.

"It's not about ideals or to show off a perfect body… we are doing this to show off the garments."
– Hacan Andersson
Am I wrong to think this is better than photoshopping every image individually? This way, I feel the shopper would have a more 'generic' view of a garment, and appreciate that they are buying an item, as opposed to buying what a model looks like in an item.

Internet gossip alert. Nicole Richie is rumoured to take over Sarah Jessica Parker's ex-place as the the face of Halston.

Prabal Gurung is one of my favourite fashion designers. We all know this. We all know, also, that I am nowhere near loaded enough to have my dream, Gurung-filled closet.

But I may just come close! And so can you! Prabal has just been named chief deisgner for ICB, the Japanese bridge label that launched in 1995 and stopped being distributed in the US in 2002. Previous designers have included Michael Kors and Viktor & Rolf. With the brand relaunching in the States – with Europe to follow – late next year, Prabal could not be a better choice. Expect lower price points with all of the same appeal.