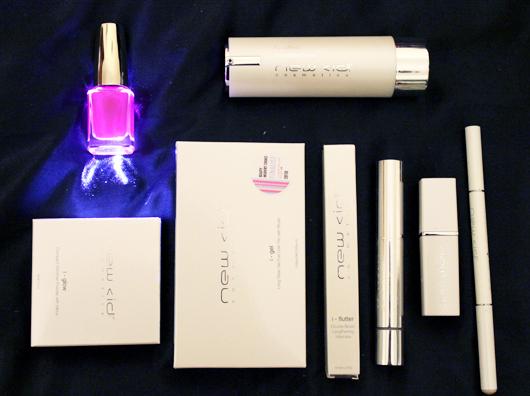 After a while, I realised I had more than enough New CID cosmetics to fill a normal persons makeup bag.
Normal person.
Thus, after deciding to go blonde and feeling so fresh and so clean (clean), I decided to do a full face of their fabulous products:
i-gel Long Wear Gel Eye Liner Trio With Brush in Graphie/Granite/Carbon – This is a super soft-and-creamy eyeliner trio with staying power. It also doesn't dry too quickly, which lets me create a subtle smoke-out with my finger after applying a thin line with the brush provided. Easy eyes in 1, 2, 3!
i-glow Compact Shimmer Powder with Mirror in Ice Pop – I rarely wear blush (hello, rosacea!), but this is a sweetly shimmering light pink which almost cancels out the natural flush in my skin. Perfectly pretty for my almost-transparent winter skin.
i-flutter Double Brush Lengthening Mascara in Black – As a total mascara snob, I was wowed by this. There are a lot of things I demand from a mascara and – apart from being a stiffer brush than I would opt for – it has them all: volume, length, separation, staying power.
i-prime Foundation Primer – Dreamy, silky, phenomenal. I use it every day, whether I wear makeup or not.
i-open Double Ended Eyeliner and Under Eye Concealer – If you don't already know, nude eyeliner on the water line opens up your eyes (especially eyes that get no sleep, a la Lela London's) while avoiding the harsh look of the bright white eyeliner that many old-school makeup artists recommend. To be honest, I don't ever use the concealer end as I never 'touch up' in the day, but the eyeliner is a must.
i-conceal Brush on Fluid Concealer – New CID is one of the only brand that has a colour light enough for me (Extra Light) that feels like it hydrates as well as covers. You don't even need foundation with this baby.
i-polish Nail Polish in Tutti Frutti – Of course, you wouldn't get a post featuring New CID without a light-up product! This is one of their upcoming nail polishes, which will be priced at only £10 with all colour goodness of the Nail Greats with no chemical nasties.
i-pout Lipstick in Pomegranate – Another light-up product, this time with a handy mirror attached to the lipstick case. Enriched with Vitamin E, i-Pout feels richly conditioning and the taste is slightly sweet but not overpowering.
Full face and hair (though a bit too straight for my liking after a long day!), below.