Prabal Gurung: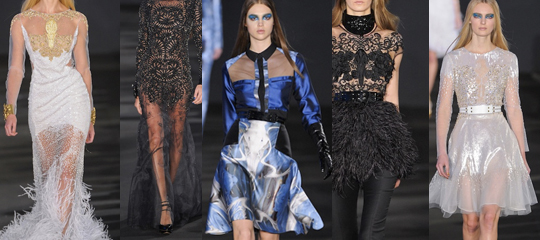 Models came out in 5 shades of blue eyeshadow that seemed a world away from the incredible collection. The show – "Uncursed" – took us through a mass of stunning black looks and led us through blues, golds, and (eventually) whites by means of ostrich feathers and heavy embroidery. Obsessing over oil-spill foil-printed neoprene.

Herve Leger: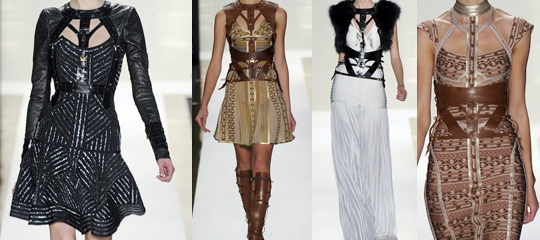 I was very surprised by Herve Leger this season. Though bandage dresses seem to be 'out', the brand synonymous with the style is making me want them all over again. Max Azria introduced buckles, bondage and harnesses that had quite a McQueen feel, this season. Drama was added in a completely accessible way; sexy, once again, without being vulgar.
Victoria Beckham: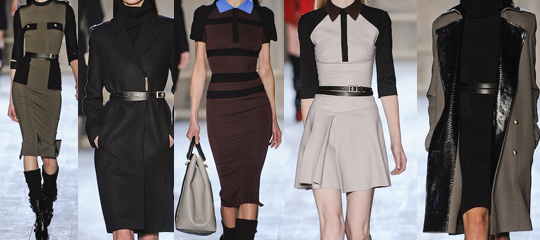 This Spice Girl has it so right. The military influence was chic as ever, paired with her sleek body-conscious knee-length sheaths. This season – without feeling remotely similar to her last collection – she pulled off trademarked feminine tailoring and added fluted skirts, contrasting panels, baseball collars and an incredible selection of wool coats. Few looks walked without a double-wrapped leather belts, Christian Louboutin buckled boots, or a (brand new) 'Harper' bag.
Jenny Packham: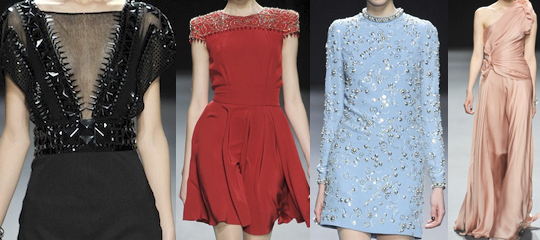 Victory rolls, jazz music, the 1940s, Film Noir craftmanship. The entire show was red carpet-worthy and purely Jenny Packham. As always, skin was shown in the right places at the right time, a trademark that has kept her on ever best-dressed list over the past few years. Jenny Packham has the "Ultra Woman" down.
Reem Acra: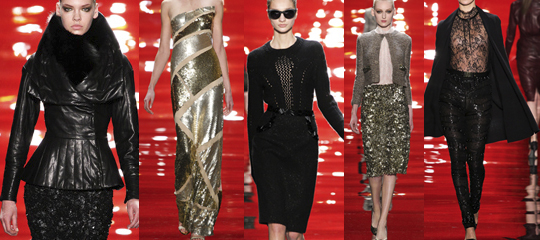 Every time I see a Reem Acra collection, I have a feeling that she might be a couture-wielding superhero in a double life. With second-skin leather dresses on the cards, Autumn/Winter 2012 gave us everything from edgy, extreme-cut illusion panels to beaded boleros and daytime sheaths. My favourite piece – perhaps of the entire week – was a cinched in leather jacket with a puffed up collar and beautifully flared peplum.
Naeem Khan: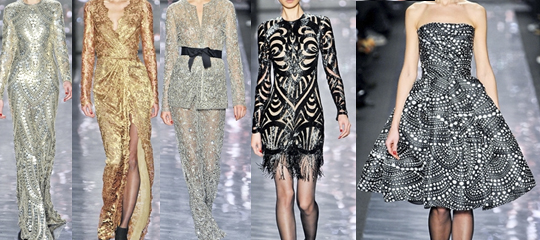 GIVE ME EVERYTHING. Naeem Khan went back to his southeast Asian roots for his Autumn/Winter 2012 collection, and – I believe – produced his best collection to date. His beading and embroidering were as heavy as ever, and complimented his shimmering and sparkling designs to perfection. Khan mastered an Indian-inspired collection of cocktail and caftans, power suits, gowns, and everything in between. A scintillating celebration of the female body.
Oscar de la Renta: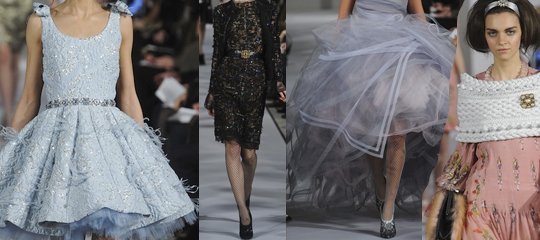 For Autumn/Winter 2012, Oscar de la Renta engaged us in a jewel takeover. Every single print seemed to have a jewel accent, creating the most incredible 3D effect to the collection. With diamante-accented satin headbands and bejewelled leather belts, not a single garment could escape an elegant dash of sparkle. Tutus, vest, shifts, and cardigans were mixed in with Oscar's "ladies who lunch" set – all in a mix of Spring hues that were very welcome in a Fashion Week of dark "Autumn" colours. A flawless mix of fairytale and everyday glamour.
J Mendel: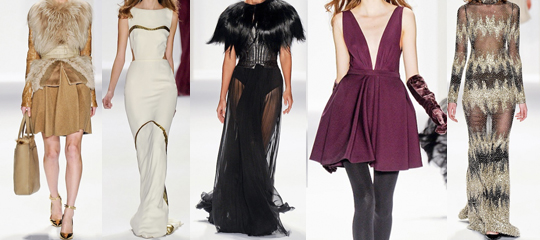 When the show opened with four white looks, I was hoping and praying that it wouldn't stay that way. J Mendel has been so innovative with colour in previous seasons, it would have been a waste. Thankfully, the Fashion Gods were listening. Mendel's fabulous models ended up walking down the runway in luxuirous chiffon, jersey, fur, and more in a rainbow of blacks, maroons, golds, saffrons, tans and khakis. This collection could not be faulted, and felt quite reminiscent of the trajectory that Valentino embarked on earlier in his career – the perfect mix of young and old.
Marchesa: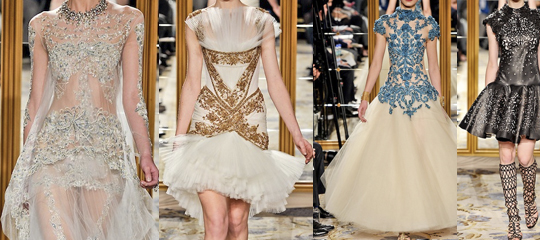 Autumn/Winter decadence on a plate – scratch that…on fine china. I mean, I wasn't going to get through a season without gushing over my beloved Marchesa, was I?
Inspired by William-Adolphe Bouguerau's 1879 portrait painting, 'A Soul Brought to Heaven', the designer dream team of Georgina Chapman and Keren Craig once again produced a collection that looked like it came from an acid trip in a diamond store. Laser-cut leather, bouillon embroidery, and endless fashion fantasy wear. Baroque elements were plentiful, but adored. They aren't reinventing the wheel, but they do make that wheel look more insanely dreamy than any other.