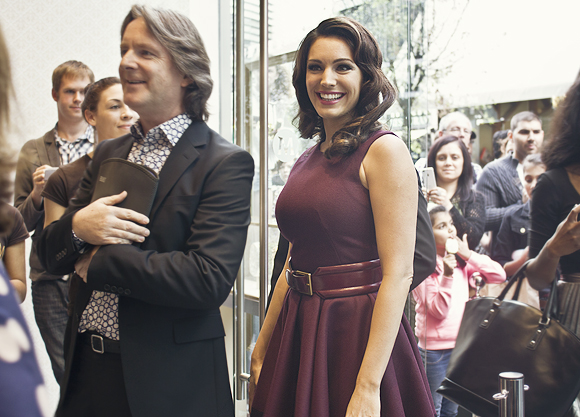 Last night I headed East (!) to Westfield Stratford to celebrate the launch of Magnum's new pop-up shop alongside model and TV presenter Kelly Brook.
Launching today, the Magnum London store at Westfield Stratford City will be open for seven weeks and give guests the options to create your own Magnum. If you're daring, test the delicious marshmallow, salt, and popping candy concoction on white chocolate (don't worry, there are plenty of "normal" flavours)! Visitors can also indulge in cocktails, desserts, and test out Magnum's "Pleasure Pod".
The Pleasure Pod – seen below – is the world's first bio-responsive food installation and has been designed by neuroscientists for the past six months. The sensory environment uses skin tension, facial expression, deglutition (aka swallowing) and heartbeat data to capture your unique responses to the intense pleasure hit we receive when chowing down on a Magnum Infinity. I suggest you pop down and try it yourself, as there are stunningly unique visual animations projecting throughout your experience!
Kelly Brook – Get The Look:
YSL Tribute leather sandals
Alexander McQueen flared wool-felt dress
Alexander McQueen leather waist belt