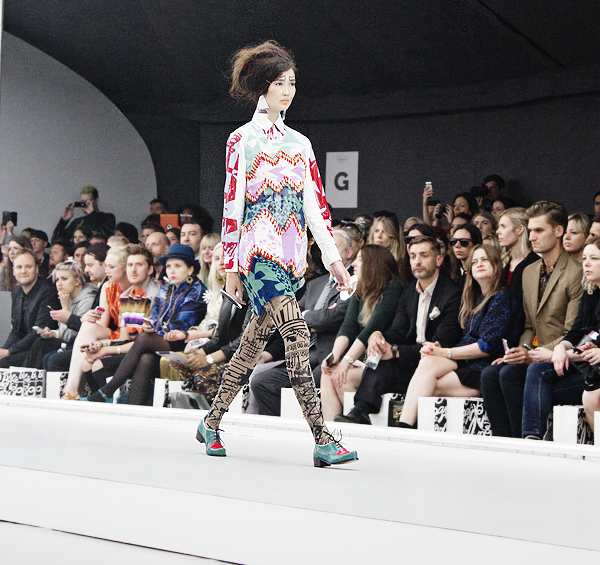 For Spring/Summer 2013, Louise Gray turned out an extraordinary collection that put me on a high for days. Under the slogan 'NOW WHAT', Gray delivered her synonymous level of unabashed fun in a manner that was brilliantly advanced from Autumn/Winter 2012. With quilted devore, newsprint, doodles, and a well-executed juxtaposition of geometric and text-based prints, there was a lot to see and a lot to love.
There is no question about it, Louise Gray has a method to her madness; a mad hatter-esque madness that chose to mix images of cheeseburgers with bold-printed images reading "GOOD TIMES" and then surprise us all with chiffon-on-chiffon embroidery and jigsaws of lace. Each piece was eye-catching in its own way – Gray said "if you buy just one thing, it'll feel like you're getting something special" – and often had the feel of an optical illusion.
From Tatty Devine jewellery (exclamation mark earrings!) to sponsorship by Barbie (a 21st Century version of Barbie's first ever dress!), 'NOW WHAT' is the perfect solution for your inner East London street princess. Charmed, I'm sure.