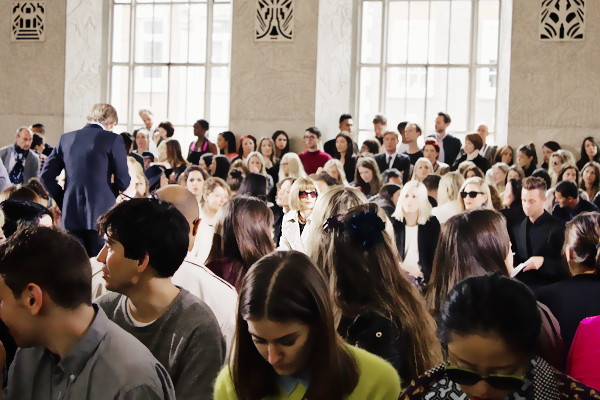 Yesterday we went backstage at Nicole Farhi Spring/Summer 2013, so today obviously called for some front-of-house action. With the routine attendance of Anna Wintour (which I still get giddy about…on the inside, of course) and the announcement that it would be Nicole's last show as Creative Director, the show was set to be the highlight of London Fashion Week's third day of SS13.
Inspired by the marble mountains of Carrara, Italy (and by Edward Burtynsky's photographs thereof), Farhi displayed a thoughtful and richly textured collection that sweetly – neutrally – mimicked the movement of shadows on the mountains. Pleats were the real technical accomplishment here, culminating in a trenchcoat that any new-age Audrey Hepburn would die for and a white shift with a solo sculptural pleat which rested sash-like across the body.
Though the only 'colour' in the show lay in the blue-tinted highlighter on the models' cheekbones, the profundity was not amiss. Nicole Farhi does not need the rainbow, mon cher – this was an exceptional collection in its mostly-monochromatic glory. An elegant abdication of the throne.