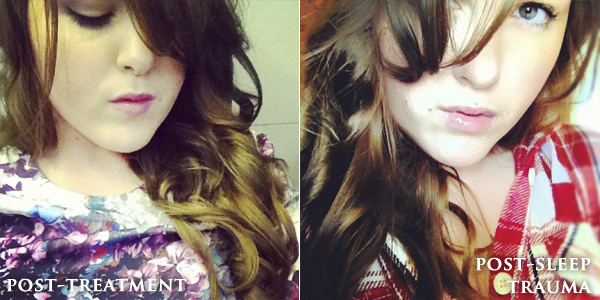 Brazilian blow dries have had their fair share of negative press. Fair, I say, because many of them contain a cocktail of chemicals (sup, formaldehyde!) that you want nowhere near your body.
Tough break for ladies who want the sleek results that the treatment often delivered, right? Perhaps not. Responding to the scandal, the beauty industry has done their part to create more than enough safe alternatives. My new favourite? Keratherapy. Calling itself the 'next generation keratin treatment', Keratherapy's formula uses a unique non-water soluble natural silicone keratin infused 'Kerabond' technology to form an ultra-fine microscopic coating around each individual hair strand which seals in a blend of natural keratin and conditioning agents.
I initially headed to the Paul Falltrick salon to trial it under the very capable hands of Keratherapy specialist Louise. After brushing 5 lbs of Fashion Week Knots and general matting out, she sped through the treatment in three steps; 'Activate', 'Smooth', and 'Seal'. The formula itself can be left on from thirty minutes to an hour and tailored to your needs as the keratin finds the pockets in your hair that need the TLC and slowly softens them. While all treatments will improve hair condition and add shine, you can do as little as tame your frizz or as much as remove your curl completely. Because my fine hair needs texture to allow me to 'wash and go', I opted for the thirty minutes.
Being afraid that my hair wouldn't get the full conditioning benefits after choosing the shorter amount of time was, thankfully, uncalled for. After heat-straightening the treatment into the follicle, the formula was washed out and blow-dried without the need for a heat protectant (a choice that would typically end with a fro so unruly that I would opt to take a plus size dress and throw it over my head). I had shampoo commercial hair.
On the left we have a photo taken same-day. On the right we have a photo taken after sleeping with my hair loose. The big win here is the fact that I could even sleep with my hair loose. Due to the unruly nature of The Mane and its tendency to weave its way into knots, I have slept with my hair braided or bunned for years. The fact that I could take the early morning 'after' photo and have a polished-looking bed head without so much as a hair brush to aid the gloss? That is something of a miracle.