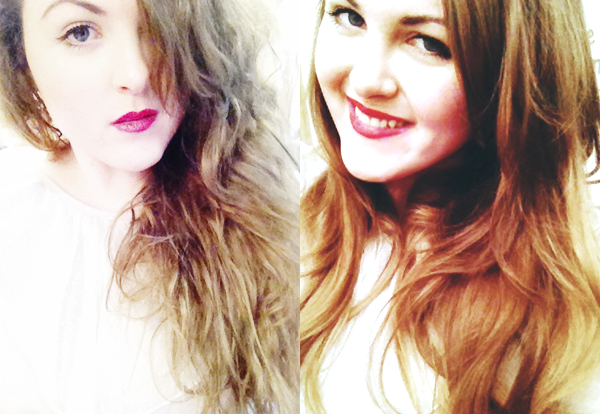 Before (what happens to curls that get flattened under your coat) / After (what happens when your hair is loved)
Nestled above the hustle and bustle of Piccadilly Circus lies The House of Rush – a haven of hair stylists and beauty therapists at the top of their game. This Monday I paid the postmodern salon a visit to get my neglected ombre hair tweaked and treated under the genius advice of stylist Star.
Rush Salons – as a group – have recently had a relaunch – called You By Rush – for which they have performed an in-depth customer survey to really listen and understand the needs of their clients. After collating all the information, Rush have come up with a selection of looks including dip-dye favourite "The Fashionista", which was carefully altered to suit my hair needs.
As ombre hair goes, I prefer a more classic-looking gradient of colour as opposed to a strong dip dye, but wanted to see a stronger range of colours between my roots and ends. Due to my hair's tendency to pick up red tones better than others, we decided to darken my roots, leave the colour alone in the mid-lengths, and blend some lighter and warmer colours on the ends of my hair.
As any lightening of the hair shaft will strip a bit of moisture from the hair, this was the best way to intensify the colour without damaging a substantial amount of hair. For that extra bit of TLC, Star also applied the Fiberceutic treatment by L'Oreal Professionnel. Likened to 'Botox for the hair', the Fiberceutic formula contains molecules that search for and attach themselves to areas of damaged keratin (the protein which makes up hair fibres) which then work to seal any gaps and breakages. This isn't the type of conditioning treatment that sits on the hair shaft and weighs it down, but rather one that protects and plumps it up.
The results – as you can see – speak for themselves.