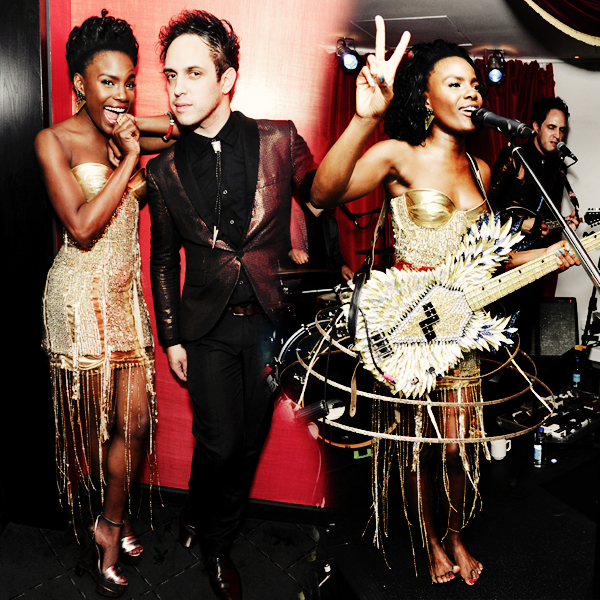 Last Thursday night, my new favourite London hotspot Baroque hosted The Noisettes (aka Shingai Shoniwa and Dan Smith) and an intimate group of music lovers to celebrate the launch of their third album, 'Contact'. After catching some Hoxton Gin cocktails with the lady of the hour (see the full interview, below), she took the stage alongside Dan in a platinum-gold and and sequined gown especially designed by PPQ. Socks were knocked off, Baroque Surf and Turf platters were demolished, the crowd was in lust, and Dan's father even came on stage to play the harmonica next to his very talented son.
No possible way you could upset the rhythm.
The Interview
Lela London: Well hello, Shingai!
Shingai Shoniwa: Wow, sorry, I just have to say your eyelashes are majorly f**king long.
LL: I'm already in love with you, you don't have to woo me. But thank you.
SS: [laughs]
LL: Time to talk Contact! The first track, Transmission Will Start, is a movie-like build-up to the music. What made you want to add it to the album?
SS: It came a lot later on during the process because we had this amazing opportunity to go down to Abbey Road and record the strings to Contact [the track] there. It was a fantastic day. We had a 27-piece string section…it was really really really cool to watch the song – which started with a piano – turn into something so much bigger, so we used all the outtakes for Transmission Will Start. It became the heart it. The motif that holds the album together. We set the mood.
LL: Love a lady who can set the mood!
SS: Exactly – it is just like hosting! You give them a little canape…it is the curtain call…Transmission Will Start sets the mood.
LL: Were you listening to any specific artists or songs to help the creative process?
SS: I listened to a lot of Kate Bush, and actually a lot of African stuff – especially because of the way the vocals are layered up. I love the old vocal quartet of artists like Miriam Makeba or Fela Kuti who will sing one thing and the backing vocals will sing it back. Loved it. Loved that call and response.
LL: And there are definitely some old school funk vibes going on…
SS: Yes! Old school really really dirty sort of funk. Inspiration from everywhere; film music, nineties dance stuff really inspired songs like 'Let The Music Play', really cheesy R 'n' B, nothing is really banned from my music collection!
LL: Contact is quite the collection in itself! Final Call features Deborah Evans-Strickland (of 70s icons The Flying Lizards) – how in the world did that come to fruition?
SS: She walked into the studio one day with Dan [Smith]'s dad – who is an amazing artist and harmonica player, as well – and he basically worked with her back in the 80s when she was in The Flying Lizards. She was hanging out and just seeing how the album was going, how Dan was doing, we were like 'album is going great, blah blah blah'. We were just finishing Final Call and it occurred to me that she could do the opener in a completely different way. When she got on the mic, she nailed it, it was electric.
LL: So you have Deborah, Motown, Country, Funk, and more. All in one album. Has that experimental process become easier as time goes by or do you get a lot of flac for not sticking to a certain musical prototype?
SS: No. It sounds really big-headed, but I don't consider it experimental when you have lots of different rhythms pulsating through your veins. You can't go into the studio and play and have it sound the same. You're travelling from the most creative and exotic places to the loneliest corners of the planet. That back-and-forth….adaptability and…playfulness is inherent in me now. I see it as a blessing.
LL: There is such a vocal and musical strength in every song – especially Contact. What sort of feeling do you get when you know a song has reached that level?
SS: One of the first signs is butterflies. Certainly. The second is probably when you are dying to play it for other people.
LL: Do things like that – waiting to hear others opinions – phase you?
SS: Sometimes I'll play it for them and hide in the corner of the room. It's definitely easier as a collective. That takes the weight off a little bit, but I think there comes a point where you just have to listen to your spirit and trust your instincts.
Love power. Go get 'em..