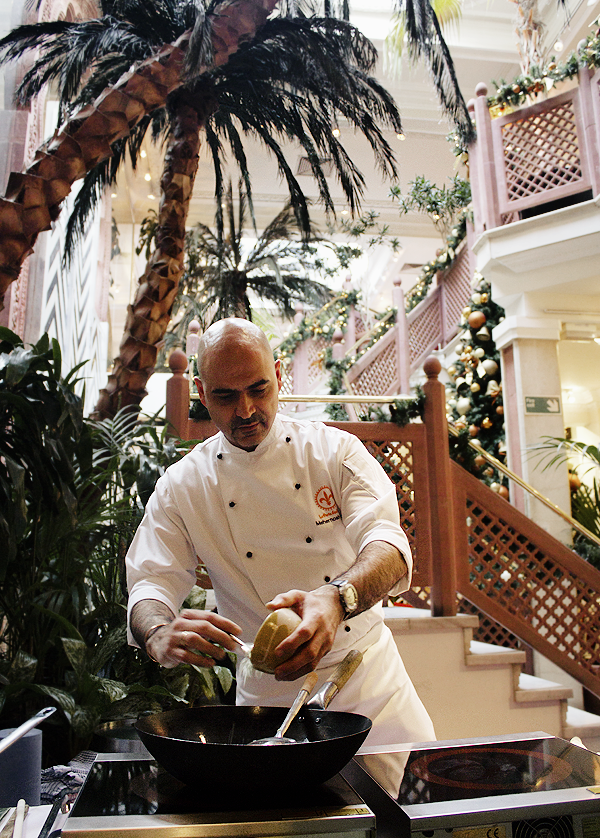 Indian cuisine does not fall short in the average Londoner's mind. The infamous 'tikka masala' is practically as synonymous with British mealtime as a steak and kidney pie. That – in all of my deluded wisdom – makes me rather indifferent to an Indian menu.
Until, of course, I experience something like La Porte des Indes.
A real shame for anyone who judges a book by its cover, the unassuming exterior of La Porte des Indes is a complete departure from the dining areas; a colonially opulent, mirrored and palm treed escape from the tourist-packed hell that is Oxford Street.
On the last Friday of every month, executive chef Mehernosh Mody – and his biting wit – hosts a "master" class which I attended last week. Hence the quotations. Though I have yet to develop a mastery in Mody's unique style, the class details the genius behind La Porte des Indes' blend of Southern Indian French trading post cuisine and the French Creole of Pondichéry in a manner that anyone could understand.
Kicking off with a fruit cocktail in their former ballroom and a tour of the tandoor-edged kitchens, we soon settled into a large area behind their waterfall for a cooking demonstration. (Yes, waterfall).
Joined by wine expert Jacqueline Kay of Berkmann Wine Cellars, we were treated to a live display of Mody's salmon and dill samosas, rougail d'aubergine, and Kerala chicken stew alongside their tanin-free wine pairings. Tanin-free, of course, because wines which are oak-barreled or contain tanin will often coat the mouth, making it a poor match for the strong flavours and spices of India. Jacqueline explained that while many of us steer clear of wine while consuming spicy food, Australian Riesling and Sauvignon Blanc options are excellent go-tos for balanced and fresh consumption.
Post-demonstration you are given a signed copy of La Porte des Indes cookbook, a complimentary spice mix, a certificate of participation, and are then seated to enjoy a three-course meal.
Welcomed with extensive lists of fruit-based cocktails and wines, we amuse bouched before settling on the non-vegetarian menu. To start, we enjoyed lamb kebabs with smoked chilli, sun-dried tomatoes and herbs – complemented with a fruit chutney – alongside Sunhere Samosas and Dahl Puri (melt-in-the-mouth vegetarian fare drizzled with yoghurt, chutneys and gram flour crisps).
As mains, the menu featured the Pulet Rouge (shredded chicken simmered in a buttery cream sauce with rustic spices), Saag Khumb (stir-fried field mushrooms and leaf spinach with kadai spices), and a 'very hot' Kerala Meen Kari (tillapia fillets simmered with coconut, chillies, ginger, and tinged with smoked tamarind) which I didn't find much spicier than the Pulet Rouge. As accompaniments, the table managed to gorge on saffron-flavoured Basmati rice, Tandoori Naan, and Gajar ka Ralta (crunchy carrots and raisins in a tempered yogurt sauce). While my personal taste calls for an experimental use of spice in such an extensive menu, flavours impressed from the starting line and often played sweet and savoury off each other in a way I know any Indian food lover would adore.
Though I have always found Indian desserts to be too sweet for my liking, the final l'assiette du chef went down well. With an assortment of nibbles that managed to counter the aftertaste of chillies and tamarind, their chocolate samosa managed to give me a delectable sugar hit that allowed me to eat every bite.
Tikka masala, this is not.
La Porte des Indes, 32 Bryanston Street, London, W1H 7EG.