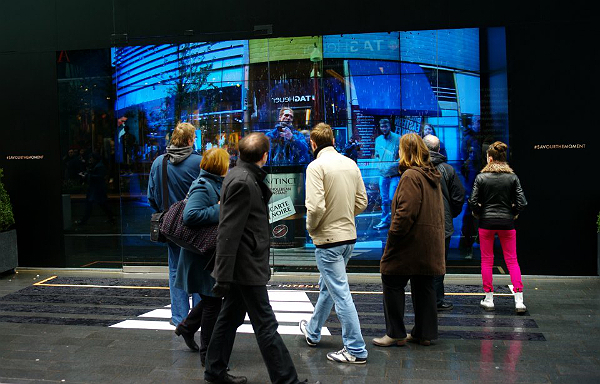 We all know how I feel about my coffee*. The coffee experience, in general, takes on a whole different identity to many of my liquid vices (I don't often have 'a water experience' or a 'green tea experience'). When I found out that Carte Noire were looking to bring that experience to life in one of my favourite shopping haunts, Westfield Stratford, I was fast on my heels to check it out.
Lasting until April 18th, Carte Noire have taken over one of Westfield's shop windows to – in their words – 'recreate the intensity found inside every tin of Carte Noire Instinct'. Using a live camera feed, cutting-edge motion tracking technology, cinematic visuals and sound effects, the window will transform shoppers' surroundings and allow them to savour the intensity of the moment (with some extraordinary results). The installation event includes free coffee samples of Instinct (honestly the only instant coffee I choose drink, thanks to a smart Wholebean blend with finely milled coffee beans), vouchers for future purchases, and lots of social share-ability (see: @CarteNoireUK #savourthemoment and facebook.com/CarteNoireUK!)
Looking forward to your caffeinated tweets, guys and dolls.
*For those who don't…that feeling is MANIC HAPPINESS.