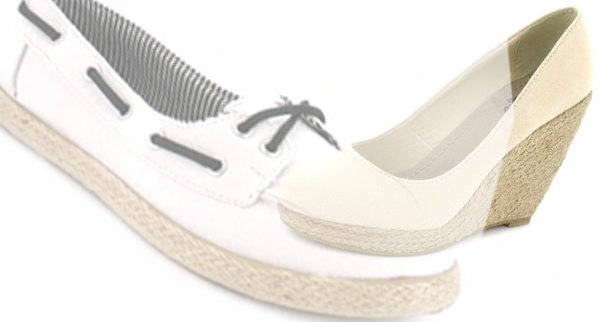 British summer: the only time in the year we can hope for some real sunshine and days out to our sorry excuses for beaches. The unofficial Summer dress code usually consists of shorts, short skirts, short sleeves, no sleeves, and even no tops (woah, reel it in!).
The sight of sunshine smiles, the sound of ice cream vans tempting you to treat yourself, the smell of barbeques making you wish you made more of an effort with your neighbours, busy parks and beer gardens filled with people drinking ciders they would otherwise be made fun of for drinking…some of us even daring to complain about the heat and wishing it was a little chilly. I am so ready.
Obviously, my brain goes straight to footwear when I consider 'summer prep'. It is, after all, just as important in the summer as it is in winter. Instead of boots to protect us from the snow, sleet and the awkward semi-wet sludge of London, we have to swap things over for stylish, easy and lightweight shoes that are as perfect with minis as they are with maxis.
One contender for summer shoes are these canvas shoes which are available at wynsors. These lightweight, rubber-soled shoes are a safe companion for almost every summer outfit. Available in an array of styles, brands and colours, canvas shoes are an activity time necessity. Whether heading to town for a spot of shopping in the dresses you've been waiting months to crack out or to a theme park in cropped floral trousers and a vest top, canvas shoes are the epitome of fuss-free footwear.
Thankfully, canvas shoes are easy to care for. The inconvenience of getting dirt on your favourite summer shoes and having to clean them or being unable to wear them often leads to a selection of ruined outfits. In another light, most – if not all – canvas shoes are machine washable and dry fairly quickly (it's worth noting, during dirt talk, that you can also get kids shoes from wynsors).
Summer staple secured.