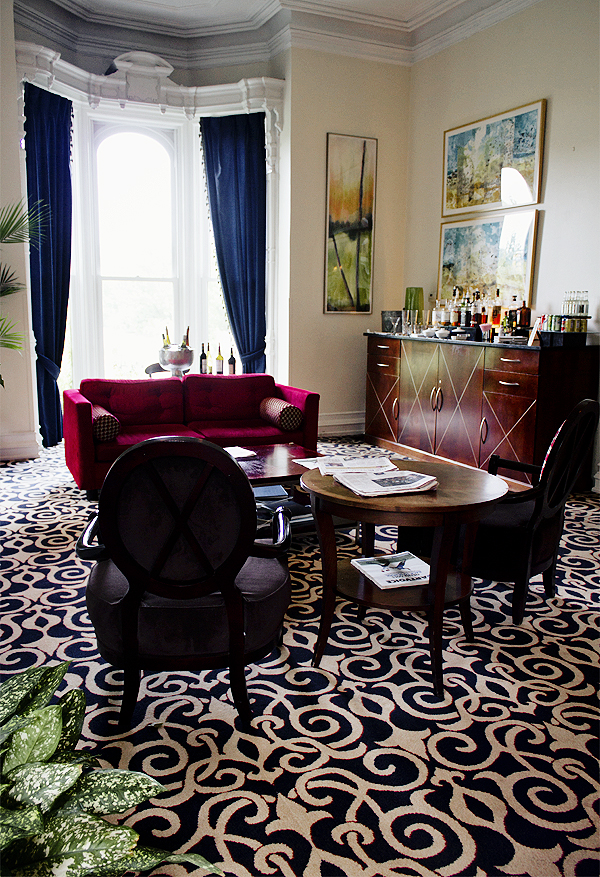 After our second big day on the road, we left Niagara Falls slightly exhausted and ready to wind down. Our next port of call? The Mansion on Delaware (MoDA) in Buffalo, New York (roughly 30 minutes from the Falls). Every US road trip needs a slice of luxury, after all.
Though we decided to Airbnb our way over to the East Coast for 99% of the road trip, you just can't say no to a night at a place like MoDA.
Rolling up – still slightly damp from being waterfalled – in the late afternoon, we were greeted by the Mansion's butlers to have our car valeted into the hotel's private lot. Oh, yeah – butlers. The thing that sets MoDA apart from other boutique hotels is a 24-hour butler service which, as you can tell, does everything in their power to give you an incredible stay. Whether they are giving you a complimentary press, shoe shine, or running you a bath – these dudes are the creme de la creme of concierge services.
After a mini-tour of our Premium Grand room (at which point I had to restrain myself from lighting the fireplace and diving headfirst into the whirlpool bath), we headed downstairs to the billiards room to join their nightly cocktail reception and indulge in a game of billiards. While chatting over drinks, our butler came over to ensure we had everything we needed and offered to help with the most urgent matter of the moment: dinner.
After suggesting his personal favourite place – read: not a tourist trap – for Buffalo wings (come on, we had to) in the city, we went upstairs to freshen up and met him back downstairs to hop in MoDA's Land Rover and get chauffeured to Gabriel's Gate. Whether you're going out and planning to down a bottle or not, that kind of chauffeur service proves invaluable for anyone visiting a new city.
Twenty extra crispy, extra hot wings later we decided to stroll back to MoDA and bubble bath the rest of the night away.
Waking up with a seven-hour drive on the cards, we made the most of a continental breakfast (of gargantuan selection – fruit, pastries, eggs, cereal, toast, juices, et al) and threw down as much caffeine as possible before heading off to Boston. Though we didn't get much time to play tourist in Buffalo, MoDA alone has me dying to return.