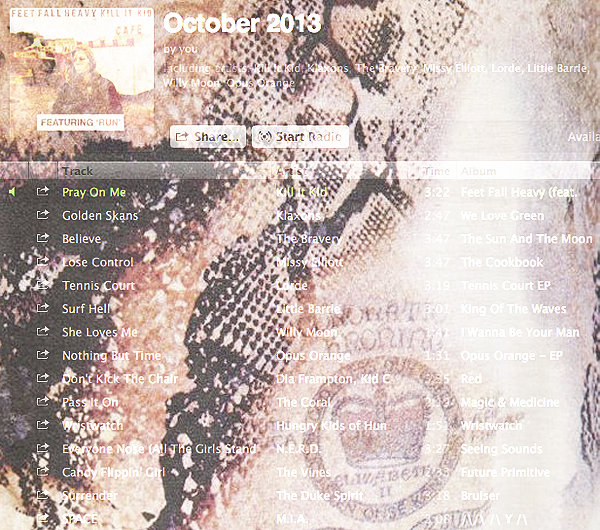 This month, I seem to spending all of my time singing acoustic versions of dirty rap songs. In my head, of course. It took some full-force willpower to not create an Ultimate Dirty Rap Song Playlist, but I managed to restrain myself. A bit. Welcome to October's free Spotify playlist!
(Need to catch up on last month's? Click here for September's LFW playlist.)
(Download Spotify here. It's free!)
Track listing:
Pray On Me by Kill It Kid
Golden Skans by Klaxons
Believe by The Bravery
Lose Control by Missy Elliott
Tennis Court by Lorde
Surf Hell by Little Barrie
She Loves Me by Willy Moon
Nothing But Time by Opus Orange
Don't Kick The Chair by Dia Frampton and Kid Cudi
Pass It On by The Coral
Wristwatch by Hungry Kids of Hungary
Everyone Nose by N.E.R.D.
Candy Flippin' Girl by The Vines
Surrender by The Duke Spirit
SPACE by M.I.A.