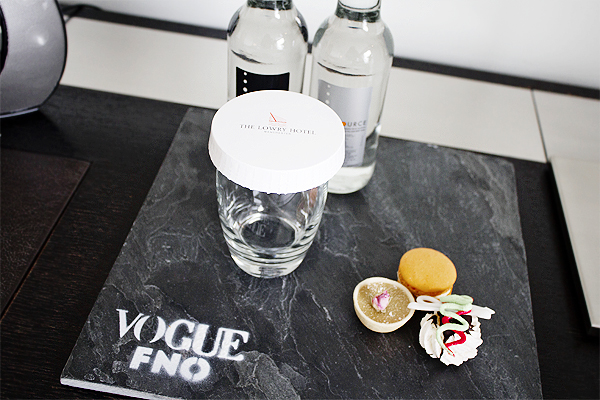 A few months ago my close friend and PR superbabe Zoe Vaughan-Davies suggested we go on a trip to Manchester. Like all wine-fuelled decisions, it took us quite some time to remember we wished to do so. Then – THEN! – Vogue decided to move the UK branch of Fashion's Night Out from London to Manchester. It was fate.
Last Thursday, Zoe, Julia from Stylonylon, Amy from Fashion Bite (BABES) and I hopped on a super-slick Virgin train and spent a speedy two hours chatting blogs, boys, and babies (!) in their gorgeous first class cabin.
In no time at all we arrived at the creme de la creme of Mancunian hotels: The Lowry Hotel. Checking in alongside a three-dimensional whos-who of the fashion industry (Voguers, designers, et al), we took a few minutes to freshen up, take advantage of our room's complimentary REN goodies, and head downstairs for a ladies lunch in The River Bar.
Opting for fresh comfort food, I chose to refuel with a split club sandwich and chicken caesar salad before heading to the spa for a hot stone massage.
To clarify, this is not a normal day in my life.
Swapping four layers of clothes for a fluffy white robe is one of the greatest things one can do in their life, and a task I relished in at The Lowry. Once settled into the private treatment room, it took no time at all to be pulled and pummelled into slumber. An hour later I woke up refreshed, serene, and smelling like spa heaven. It was a dream.
Rushing back upstairs for a quick change before the first event, I was greeted by a team of Bobbi Brown make-up artists who were there to surprise us with smokey eye makeovers. Though the clock was ticking, these women speed-created the most va va voom smokey eyes I had seen in ages. Subsequently, I fell in lust with their new smokey eye kajal pencils which, by smoke standards, are a dream.
A quick trot across the Trinity Bridge and it was time to head to Fashion's Night Out's official launch party at Hugo Boss. After a short stretch of drinking cocktails, avoiding sushi and mingling with the likes of Henry Holland and Alexandra Shulman, it was already time to head for dinner at Manchester House. The review says it all (click!), but…GO.
Enamoured by Manchester House, we managed to spend a good chunk of our evening gushing over Pinot Grigio and emerged to find we had missed a fair chunk of our loosely planned activities. On a cuisine high, we popped into a few of the stores before enjoying a surprise concert from Jessie Rose at St Ann's Church, catching the final few Fashion's Night Out Instagrams on The Avenue, popping in at Australasia and dancing to reggae mashups with new friends at an unknown bar.
The morning after consisted of the perfect in-room recovery breakfast in bed, a morning of work in bed, and a post-shower nap in bed (#greatbed). The only thing that made leaving The Lowry bearable was the promise of Virgin's first-class comfort once again.
What an unlikely and wonderful night.