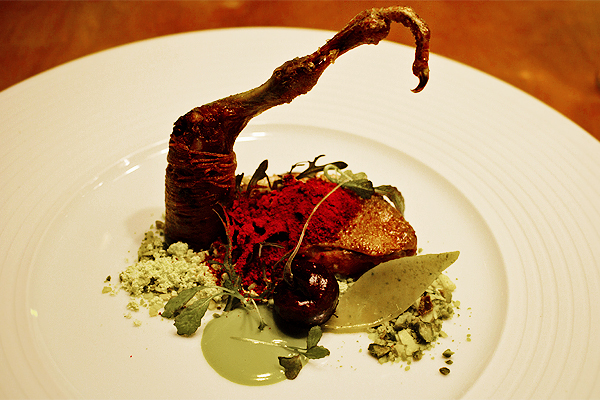 Watch out, Tom Aikens. A new man chef with a wife and kids is vying for my consumptive affections. His name is Aiden Byrne. He can be found at Manchester House. He's bringing the Michelin to Manchester.
All industrial elegance, the city has found a bit of a Northern Star in this resto. While Byrne's credentials speak for themselves (Masterchef, Great British Menu, youngest Michelin-starred chef to date), they did nothing to prepare me for the exceptional experience of Spinningfields' Manchester House.
Pre-starters, our table received small slabs of onion and bacon brioche with a quenelle of whipped sweet onion butter – a course on its own when paired with a smoky onion consommé. A tad extraenous (the heady consommé served my palate better as a dip), but a treat nonetheless.
Shortly thereafter the theatrics began. My starter of Squab pigeon with cherries, pistachio and violet mustard? Visual ecstasy. An obvious technical feat, flavours rocketed down my throat with each bite and truly kept me on my toes. Surprises like faux-cherries filled with foie gras will do that to a foodie.
Truly annoyed when there was nothing but plate left of my starter, it felt like Christmas morning when my main arrived. Turbot – cooked in fermented cabbage – sat atop a sliver of Morteaux sausage surrounded in a flavourful cylinder of red wine sauce and sauerkraut. With the addition of samphire and nori seaweed, it was so good it almost (almost) made me ignore my companions' plates of Belted Galloway Fillet and Boddingtons steak and ale 'pie' (you have to see these silky masterpieces in person to believe them).
Initially convinced we had no time for dessert, we opted to share 'Milk and honey' and 'Szechuan, lychee and rose' between the four of us. While the latter dish seemed to be the one keeping my fork engaged, both desserts were an unbelievable collaboration of presentation, skill, and creamy, creamy luxury.
I'm now looking for any excuse possible to return to Manchester. The 12-course tasting menu is baiting me.