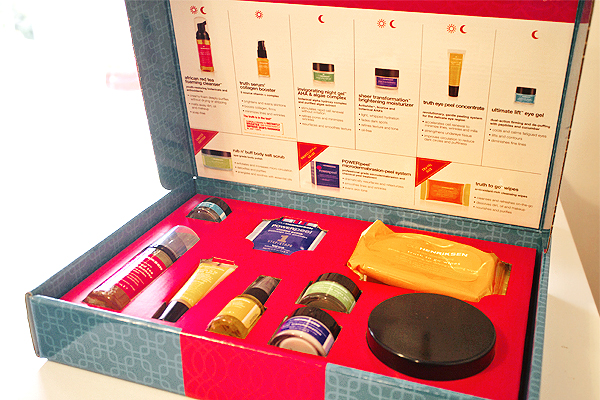 Few beauty retailers do natural beauty like Bath and Unwind (and you know how I feel about natural beauty). With a carefully handpicked stock of superproducts, there are just a handful of websites that can rival their repertoire. You find something you want to try and you can rest assured, you'll love it.
Nonetheless, they refuse to rest on their laurels and have employed a small group of beauty bloggers to conduct continual, unbiased reviews on products of their choice. Myself included (hence, 'Tried and Tested'!).
For this round of trials, I thought I would review a few things that double up as bangin' Christmas gift ideas.
First, the Ole Henriksen Ole La La Glow from Head to Toe Blockbuster Kit:
The £59 kit contains a bevy of glow-making products – get this – worth £129. As I can honestly say I've become obsessed with each product in the kit, this is an absolute steal.
The real highlights for me are the African Red Tea Foaming Cleanser (zesty, luxurious, antioxidant-rich, and filled with anti-ageing botanical extracts) and the Truth Serum Collagen Booster. Facialists always harp on about the magical properties of Vitamin C, but I haven't had a smidge of solid proof until using the paraben-free Truth Serum. It is remarkably weightless (a short pump covers my entire face and neck) yet smoothes out wrinkles, hydrates, and smells like citrus cake. Potentially my favourite skin product of 2013.
Though I rate the full set of products, I found the Truth to Go Cleansing Wipes and Truth Is in the Eyes Peel Concentrate particularly strange and wonderful. As well as doing my morning 'wash' with the wipes (note: after fully cleansing the night before), I don't seem to look 'myself' without a few dots of the Peel Concentrate anymore. Initially refusing to use a peel on the delicate eye area (associated thoughts: I AM GOING TO BURN MY EYES OUT), positive reviews encouraged me to try the super gentle formula, and I'm glad that I did. It could just as easily be named Dark Circles/Eye Creasing No More (and again, you need SO little).
Nuxe Love from Paris Cocooning Gift Set:
Anyone who has ever received a beauty box will be well aware of (and probably in love with) Nuxe. Their hair and body oil – Huile Prodigieuse – has reached cult status thanks to its hydrating, reparative plant oils and antioxidant vitamins. It also doesn't hurt that the scent of featured oils like sweet almond and camellia are sexy as hell.
Though this particular gift set includes Huile Prodigious (sold!), it also features Nuxe's Reve de Miel Lip Balm and Hand Cream. Products I wouldn't normally purchase from a luxury brand, but as both are fragrance and paraben-free with no preservatives or artificial scents, they have become absolute godsends. Think buttery honey and grapefruit mixed with argan oil. Then try not to eat them.
Caudalie Vine Body Butter:
I remember first trying Caudalie's magical skin products some ten-or-so years ago when Oprah was praising the brand's serums to the high heavens. I'm not sure when they fell off my radar, but my reintroduction to the brand – via this natural body butter – has been a welcome treat. My skin is an absolute nightmare in the Winter and this is the only remedy I have tried that is actually a delight to apply (I can thank the fragrant orange tree, bitter orange, orange blossom and orange wood for that one). In addition to being soothing to the touch, it is packed with active ingredients that repair damaged skin and restore the natural hydrolipidic barrier for added protection against dryness.
Decleor Prolagene Lift & Brighten Eye Cream:
I've been swapping between the Ole Henrikson eye gel and Decleor's eye cream because I:
A) …think both deserve a medal.
B) …am terribly indecisive.
C) (All of the above).
C, duh. Both products are gorgeous, but the Lift & Brighten eye cream has the added benefits of illuminating and tightening the eye area (what Decleor call their 'L-Proline complex'). Though my twenty-something eyes aren't the kind they're targeting, the addition of an application spatula (helping to massage the eye area, increase drainage and minimise puffiness) means I'm holding onto this baby for future morning after and heinous box set marathons, if anything.