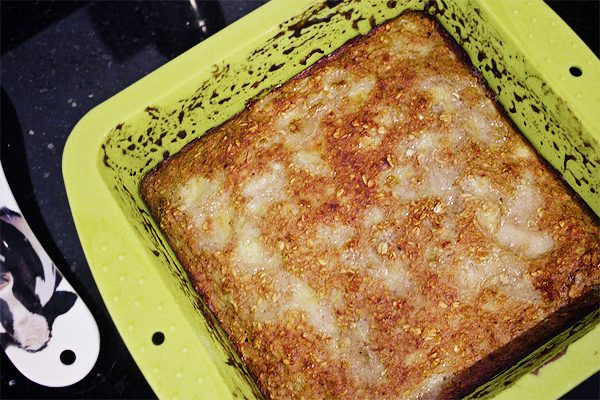 In my eyes, banana bread is one of the most delicious things on the planet. As the world likes to make lols of me at times, it is also a food that makes my blood sugar skyrocket and my slightly-celiac body pretty angry.
NO MORE, banana bread! NO MORE!
I have whipped up the recipe below for ladies and gents who, like me, crave a healthy and gluten-free alternative to banana bread that doesn't just taste like bananas and cardboard. Say hello to Gluten-Free Banana Protein Squares.
Ingredients:
2 egg whites
2 generous tablespoons of vanilla greek yogurt
1 scoop of chocolate protein powder
1 teaspoon of baking soda
1 teaspoon of cinnamon
2 ripe bananas, mashed to your liking (I didn't want mine too smooth as I love the look of banana chunks in banana bread)
1 cup of gluten-free oats
Directions:
1. Preheat your oven to 350/180 then mix your dry ingredients together in a medium sized bowl. Follow with the rest of your ingredients – 'wet', though I hate the word – and mix well.
2. Grab a silicone baking tray (no cleanup, yay!) and pour the mixture in.
3. Throw it in the oven for 30 to 40 minutes. You can play it by sight and preference, but I waited the full 40 until my edges were browned.
4. Let it cool for five minutes and dive in. It is really that simple. And delicious.