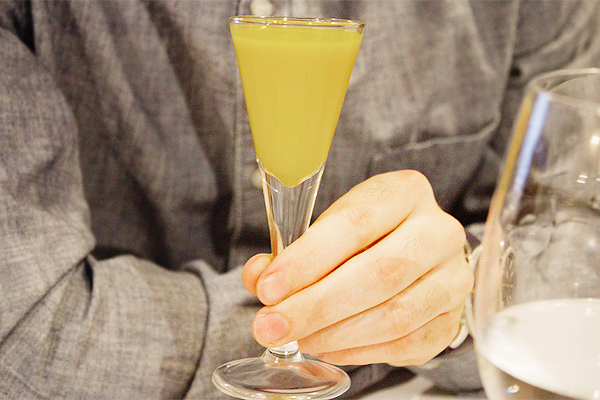 Arriving a tad too early for a dinner at 63 Degrees in Manchester ended up working to our advantage. With the kitchen buzzing for the night ahead, The Manfriend and I settled into our seats and launched into a delightfully informal conversation with the hostess.
There is a delectable intimacy to this little French restaurant that was clear from the get-go (even if we were the only patrons daring to dine at 6pm).
In regards to the food, the menu would make up my dream meal plan. The choice was quite literally so difficult we had to form a dish-sharing committee of two. He, enviably, had a starter of pan-fried scallops with truffle and lamb's lettuce salad (Saint-Jacques poêlées, truffe et salade de mâche) placed in front of him while I started with a small plate of stuffed pigeon and foie gras (pigeon royal farci au foie gras). As we shared forkfuls of each other's starters, it all became a little audibly pornographic. This is that kind of food.
With The Manfriend on a truffle kick, his beef fillet Rossini with potato puree and truffle (Filet de boeuf Rossini, purée à la truffe) arrived shortly after we licked the first plates clean.
That, and my Native Lobster.
I don't often eat lobster in the UK. Nursed on a mix of Floridian and le Midi-an seafood, I tend to save lobster feasts for places tried and true. Lobster in Manchester? I had an – untrustworthy – inkling…
As you could probably guess, both mains were exemplary.
Soaked in tarragon butter, the Homard Bleu au beurre d'estragon was the poster child of guilt and joy. Managing to look up from the lobster long enough to feign an interest in the beef fillet, I am forced to attest to multi-skilled magic of 63 Degrees: each bite is truly perfect.
And, when paired with an impeccably light Feuilleté de pomme de terre (potato in puff pastry), the maker of a very happy man.
Skipping a tempting wine list to save room for 'afters', we finished the meal with a rave-reviewed chocolate and caramel fondant with candied chestnut ice cream alongside a selection of matured French cheeses. In a restaurant that so obviously sources fine ingredients, the cheese board is always a must for me. Dare I say the Camembert, Goat's cheese and a Comté induces quasi chocolate-euphoric feelings.
We are dying to return already.