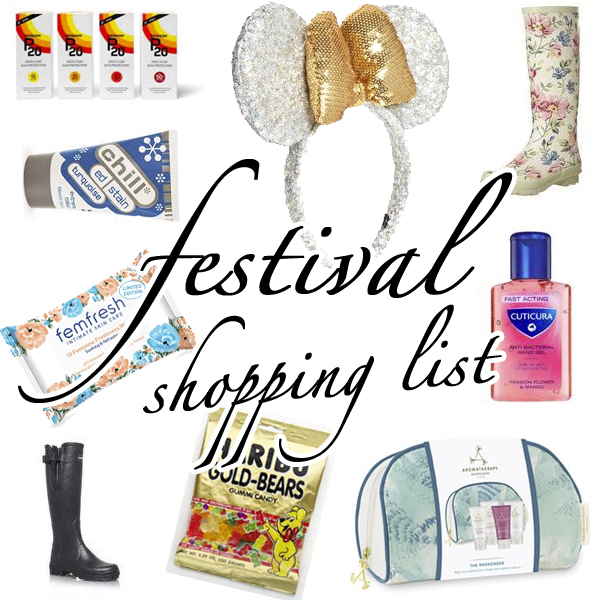 Festival packing is an art form. One I have yet to master. With the Isle of Wight Festival approaching, however, I have had no choice in the matter.
I refuse to be the woman begging drunken strangers for loo roll.
With that in mind, I have created an absolutely essential (in my eyes) festival shopping list for those of you who could use a little inspiration.
The List:
– Vierzon wellington boots from Le Chameau – I'm not the type to go ga-ga over a pair of wellies, but these are simply beautiful in real life. These guys deserve some love.
– Rosie Welly Wellies from Sanita at Zalando – Because when the shoe budget is tight (on account of buying all the shoes in general), Zalando always has the most amazing options for every type of shoe. My wallet may be frustrated, but I am one happy customer.
– Limited Edition Femfresh wipes – We have to go there. I have heard horror stories of toilet roll shortages one too many times to write these babies off. Unlike baby wipes, they are also pH-balanced, hypoallergenic, gynaecologically and dermatologically tested. As far as 'dry showers' are concerned, you couldn't have it much nicer.
– P20 – Whether it rains or shines (PLEASE, GOD, SHINE), I am a freak about sun protection. P20 is the perfect lazy girl option, as one application lasts for up to 10 hours. If there's any way to convince you, I hope the image of being hungover and burnt to a crisp is reason enough. (It also doubles as a rather lovely make-up primer, should you be concerned about any make-up sticking around throughout the day).
– Cuticura – Fstivals are dirty and I love to be clean. Though I'm not sure it will beat a 5-day communal shower aroma, Cuticura's Passion Flower and Mango Anti-Bacterial Hand Gel smells divine and kills 99.99% of bacteria upon application. A must.
– Minnie Mouse Metallic Sequin Silver Ears & Bow Aliceband, Exclusive For ASOS – There are few occasions that find glitter ear-wearing socially acceptable, and festivals rule the roost. With the added bonus of becoming tracking device if all five-foot-one of me gets lost in a crowd, I could not pass up the opportunity to permanently attach this alice band to my head for the duration of the festival.
– chill* hair dye – The ultimate in 'festival hair' – bold and varied ammonia-free shades that last for up to 20 shampoos. While I've just re-gingered myself, I plan on taking a few jazzy hues to throw on the delirious heads of any festival friends that come my way.
– The Weekender from Aromatherapy Associates – While my typical purpose for Aromatherapy Associates purchases is all about relaxation, cleanliness and that 'home spa' feeling, their limited edition Weekender kit is the perfect choice for festival goers. Alongside perfect travel sizes of their Revive Body Gel and Renewing Rose Body Wash (because no-one wants to lug full sizes to the showers), I plan on using the Renewing Rose Body Cream and De-Stress Muscle Gel for a daily in-tent pamper.
– Spoil-free sustenance – Quest Bars, Vita Coco, bounce balls, cured meats, avocados, nuts, dried fruit, canned pumpkin, flax seeds and my new favourite 'green' supplements (more on those in a future blog!). For fear of a greasy bacon sandwich being the only breakfast option below £10, I'm going prepared.
– Vodka Haribo – Hear me out. Once upon a week ago, a dear friend let me into a festival secret that I have never heard before. I have to share Vodka Haribo with you all. The idea is genius in its simplicity.
Essentially, you soak a pack of Haribo Golden Bears in the vodka of your choice (I've gone for Grey Goose) for a few days before the festival, watch the little guys triple in size, pack them in some tupperware, then take them for your evening snack time. You're welcome.