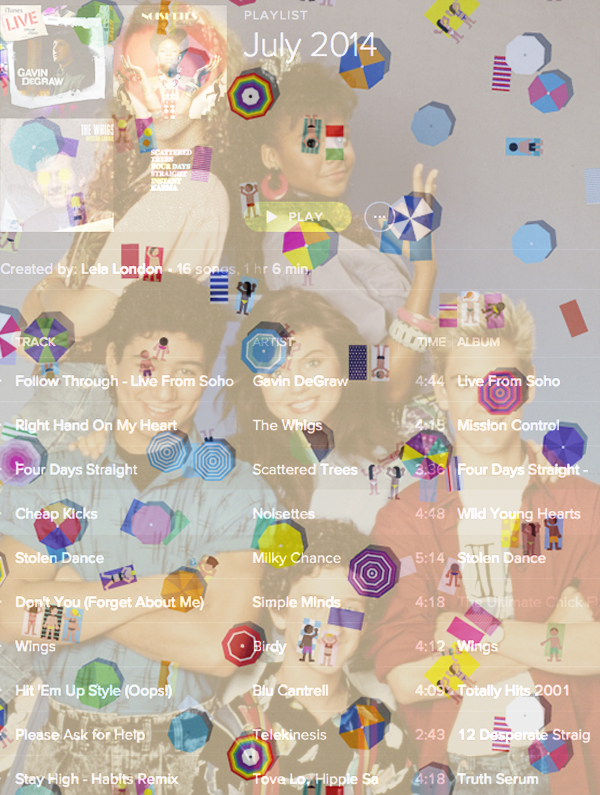 I think most people become musically moody over summer. In my experience, a little sunshine can turn a kohl-rimmed rock babe on to the one hit wonders of the Top 40, and make lyrical aficionados swoon over an eight-minute stretch of drum and bass.
I am not unaffected by these mood swings (As I'm sure it will become clear from this month's free Spotify playlist). One minute, I'm 'Feet In The Sand Girl' (accompanied by Gavin DeGraw) ans the next, I'm pretending I can out-drink and out-tan everyone around me (Ace of Base, natch). It may not have a 'theme', but July's Spotify playlist will put a smile on your face one way or another.
…and, yes, I've hidden the Saved By The Bell cast in this month's Spotify 'cover art'. Hashtag #NoRegrets.
(Need to catch up on last month's? Click here for June's free Spotify playlist.)
(Download Spotify here. It's free!)
Track listing:
Follow Through (Live) by Gavin Degraw
Right Hand On My Heart by The Whigs
Four Days Straight by Scattered Trees
Cheap Kicks by Noisettes
Stolen Dance by Milky Chance
Don't You (Forget About Me) by Simple Minds
Wings by Birdy
Hit 'Em Up Style (Oops!) by Blu Cantrell
Please Ask for Help by Telekinesis
Hand In My Pocket by Alanis Morissette
Stay High – Habits Remix by Tove Lo and Hippie Sabotage
Give It Away by Red Hot Chili Peppers
Pills N Potions by Nicki Minaj
Cassy O' by George Ezra
Bitch by Meredith Brooks
All That She Wants by Ace of Base
Take It Back by Ed Sheeran