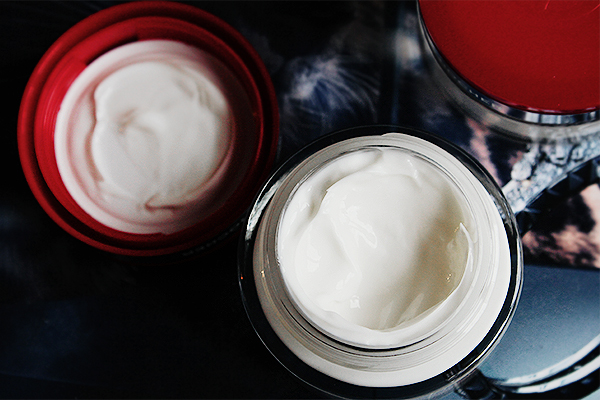 When I started to think about packing for Anthem of The Seas, it hit me like a happy tonne of bricks: there are no airplane product limitations on cruise ships!
If there was ever a time to trial some potential Summer favourites, this was it. The result
What Beauty Products Should I Pack for a Cruise?
An eyeshadow that won't move.
I found the ultimate eyeshadow hero product in NovaLash's 24-hour Cream Shadow Triptych.
Thanks to being quite a high maintenance product, eyeshadow is rarely used in my beauty arsenal. The idea of an immovable version seemed too good to be true.
So I tested it. From dusk 'til dawn I filmed, ran, rollerskated, danced, ate, drank and even skydived with one of the 'Garden of Eden' eyeshadows on.
It didn't move (Anthem of The Seas">see for yourself!). Now I want them all.
Each kit comes with three smooth, creaseproof, waterproof eyeshadows, one long-wearing JETliner, and detailed instructions on the different looks you can create. Garden of Eden came with Purity (shimmer – light gold), Lust (matte – pink), Original Sin (matte – deep purple), and the Cardinal Sin (black) liner. Purity has been the only colour product in my everyday makeup since. That is how good these eyeshadows are.
An arsenal of Summer scents
As I am massively indecisive about fragrance, I never travel with perfume (imagine carrying 10 glass bottles around with laptops and SLRs!) but love Summer scents. The compromise? A huge product haul from Crabtree & Evelyn. To me, their award-winning products are synonymous with clean, warm fragrances.
On the boat, I brought the Caribbean Island Wild Flowers body polish (to scrub myself awake in the morning), La Source body wash (to cleanse the day away in the evening), the 60 Second Fix for Hands (the silkiest of night-time rituals), and the brand new Tarocco Orange body mist (for ad-hoc citrus pick-ups).
A recovery serum (or two!)
I may be covered in SPF 50 from head to toe every day but I still feel my skin needs some TLC if I've been spending some time in the sun. Since opening up my jars of Yves Rocher's Serum Vegetal day and night creams on the cruise, they've become my ultimate rescue products. The magic is in their botanical star ingredient – the super powerful mesembryanthemum crystallinum (aka crystalline ice). This baby stimulates the skin's protein which reactivates the cellular mechanisms that fight wrinkles and hydrates to the core without feeling heavy.