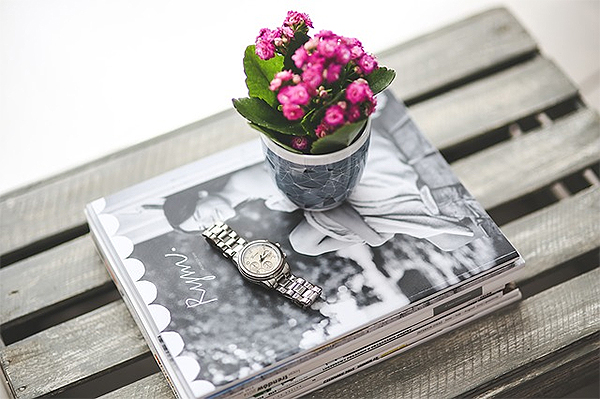 I love the process of putting pieces together to make the perfect outfit whether it be to suit my mood or the occasion I'm attending. It can take a bit of time (lots of trying on and taking off) and can take a bit of theory (the blue one or the green one, or maybe a spot of power clashing), but that's all part of the fun. Along with the clothes and accessories, the watch I choose is just as much a part of the overall look so I try to make sure it works well with everything else I'm wearing. The right timepiece can add that final dollop of panache or whimsy that makes the whole thing work – or not.
I don't think it's all that common for the average woman to own more than one or two watches, so though I find them schmancy, I try to steer clear of the latest trend styles unless I find one that is super affordable. Personally, I'm a fan of investment pieces with a twist. There are a dizzying selection of both digital & classic watches online and offline – you're almost guaranteed to find what you're looking for – and large retailers like Tesco mean that huge stocks are never too far away. It is easier than ever before to update your look.
Of course, opting for a digital or classic watch will depend on the main theme of the overall look.
If you're going all out glamorous, a classic style is usually best. If you can find one, a nice vintage number would set off a glam look like no other. If you like things to match, you could also wear bracelets or bangles to match the wristband of your watch. Vintage (or vintage-looking) watches never really go out of style and offer a great base for any kind of arm party you're looking to create, day or night. There is no better way to really get the most out of your beautiful things than daytime glam!
If you're going for digital (most likely in one of this season's rubberised candy colours) this could work really well with an interpretation of the very on-trend 90s vibes or used simply jazz up a basic jean and t-shirt combo. A bold wristband, however small, can be the definitive must-have of a simple monochromatic look.
In my opinion, you need an investment piece (upwards of £100) and a trend piece (below £100) that you love. You want a fun piece that you won't be too upset about not lasting a lifetime and to have a real investment piece that will become one of your best-loved statement items.
Whether it's fun, classic, glamorous, funky or a little bit of each mixed in, you can watch your style any way you want to.