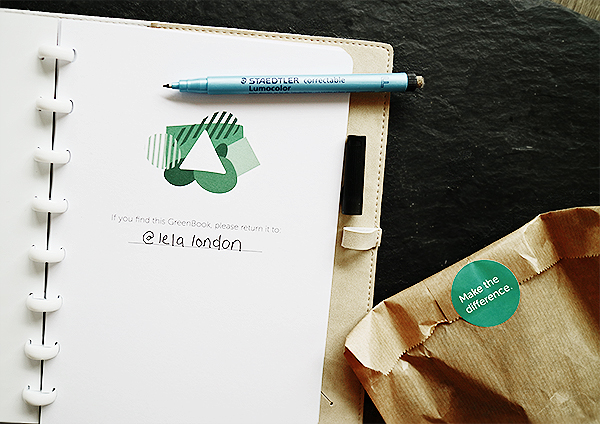 Timeless. Innovative. Groundbreaking. They aren't words I would ever imagine using to describe an A5 notebook.
Nonetheless, they fit my GreenStory notebook to tee. So much so I've decided to dedicate an entire blog to the humble stationary.
(Before you call the asylum, it's absolutely worth your time to hear a sister out)…
I came across GreenStory a few weeks ago and immediately wanted to kick myself for not thinking it up first. Their concept is so simple, ethical and powerful it could drive a million earth-loving entrepreneurs mad.
Essentially, GreenStory sell reusable whiteboard notebooks. Notebooks that serve every conceivable schedule. Notebooks with endless add-ons and planners. Notebooks that are built to last through every idea, day, list, and project you need them for.
If you can't tell already, I'm bloody obsessed with mine. I ordered the A5 all-in-one GreenBook, a luxe vegan leather notebook cover (in Sand), a handful of pens, and hit the ground running.
When everything arrived, my oft-troubled OCD went wild. Everything is customisable. The brand offer a huge range of erasable, 'clickable' pages and add-ons that allow you to fill your notebook with your exact needs. You can quite literally plan, list, and create to your heart's content without ever having to throw something away.
You can simply erase small errors or completed tasks with the felt eraser on the back of your Magic Pen or erase full pages using the microfibre wipe and a few drops of water (their spray can also be used when your pages haven't been erased in a while!).
Beyond the obvious eco benefits, you can also scan pages using the iOS 'Notities' or the Camscanner app for direct-to-digital backups (which I do, often!). It is also crazy light, crazy green, and crazy handy. The cover alone not only feels like velvet in the hand but is filled with pockets for everything (it has become my business card and receipt holders of choice).
It's funny really, I used to be such a little notebook collector. Since my adolescent introduction to Harriet The Spy and her very important lined sidekick, I have kept an erratic slew of thoughts and lists in many forms. When I was in high school I opted for the sparkliest pads around and would doodle a whole lot of nothing in fruit-scented ink before airplaning pages to my friends. When I was going through a tough time as young adult I kept a white, pocket-sized notebook and used it as a tool to process hurt feelings, letting go as I recycled each day's page. When I was getting my NCTJ, it was a veritable stream of illegible shorthand notebooks shoved into every bag I owned.
I lost the habit when I started carrying laptops, phones and cameras where my thoughts used to be.
It wasn't until I was listening to an interview with one of my favourite chefs, Samin Nosrat, that I realised how much I missed the company of a notebook. She used her own as a manifestation journal, recording her goals and ideas so she could process them and remain accountable. It was a practice I had unknowingly adopted over many years and one I now believe made me stronger and smarter.
They don't call it taking note for nothing, eh? The GreenBook is, undeniably, time and money well spent (and they offer a 10% student discount for those of you who need a helping hand like I did!).