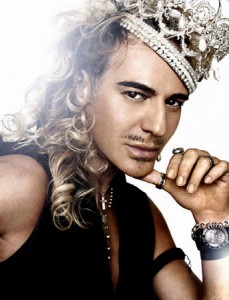 When the 'John Galliano got arrested OMG' wave hit the internet – even trending on Twitter – I tried to steer clear. I didn't want to propel a rumour that had no grounds. The earliest 'reports' claimed Galliano to have assaulted a couple and yell anti-semitic remarks at them during a dinner at Paris' La Perle, ending in criminal arrest.
After the initial (sans evidence) reaction, eyewitness accounts have confirmed that none of the above happened. Instead, they offered memories of an inebriated and joyful Galliano who raised a glass to toast with friends, causing a couple nearby to mistake him for a vagrant and reply "…you're ugly, you're disgusting, move away from here"! Galliano reacted with: "You're ugly and you're (sic) f*cking bag is ugly too" – hardly an anti-semitic remark. In the bag's honour, the woman's boyfriend charged at Galliano. Neither was hurt, as John's bodyguard and the staff at the restaurant intervened. Following the altercation, police arrived and Galliano went to police headquarters to make an official statement (note: no handcuffs involved).
Galliano has been suspended from his professional duties at Dior pending an official police investigation, and no-one currently knows if the scheduled March 4th Fall/Winter collection will go on as planned. It's not an endearing story, but it certainly is a harmless lesson to learn. Let's keep our fingers crossed!