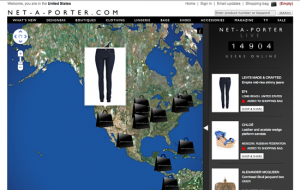 Ever wanted to peek into the shopping carts of the rich and fabulous? Net-a-Porter is making it very, very possible.
With a widget called "World View", the online shopping powerhouse has given everyone with internet access the ability to see what designer items are being bought, right as it happens.
If you want to hop from location to location, checking out the style selections of 14,000+ users at a time, I highly recommend a trip down their mesmerizing e-lane.