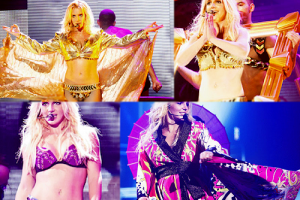 Tomorrow, Britney Spears' "Femme Fatale" tour kicks off. Why do I care? The visuals and costumes a Britney concert beat every other concert I have attended thus far (yes, I'm a diehard fan).
While she dances 'til the world ends (see what I did there?), she will be wearing some of the shiniest and sexy custom costumes I have seen from designer Zaldy Goco. There is a Marilyn Monroe-inspired dress, mirrored gold jackets, a 'Japanime Britney' kimono, a snake charmer outfit, and more. The most extravagant and beautiful piece has to be her closing number – black dress which illuminates with LED lights and literally shoots fire and lightening.
"The real inspiration of course is Britney herself. We're creating the show for her. But there's a creative script that was done by the director, Jamie King, and it's a whole thing about a femme fatale, and femme fatales throughout the ages…she's sort of changing personas throughout the show."
– Zaldy Goco
Check them out below!