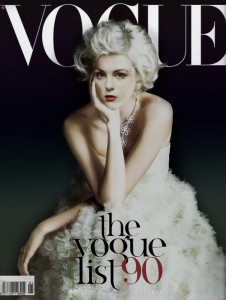 For the first time since starting Fashion Spot, I am presenting my take on something other than an ad. This time? A Vogue magazine cover.
While Vogue is the Fashion Bible, there are a few things I would love to see on their covers:
Text reduction: "59 Ways To Wear Platforms While Having The Best Sex…EVER" just doesn't entice anymore. If I am buying a magazine, I am primarily driven by image quality; nonsensical text blocks truly turn me off. A 'table of contents' could be on the back cover to cater to the content-driven.
Iconography

: Love live the day of memorable covers. In the recreation of the Marilyn Monroe image I've created, the concentration is solely on fashion and beauty. Vogue's content decides what the latest fashion and trends are – the casing should reflect as such.
'Normal' Models: I'm not going to get all Zooey Deschanel just yet, but when compiling a magazine with this much influence, I can only imagine involving relatable models – like your Friendly Neighborhood Fashion Blogger above – would be very well received. After all, we are the industry.
Don't forget: enter to win your dream shoe collection here!