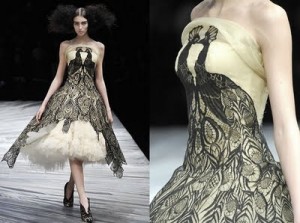 Harry Potter Spoilers ahead. I don't wish to be internet beheaded.
For Bill Weasley and Fleur Delacour's upcoming wedding in the Harry Potter series, I wasn't expecting much fashion wise. Hogwarts seems to have a knack for keeping things awfully…British. That was until I saw the promotional image of Clemence Poesy (who plays Fleur) in her wedding dress. Hello, Alexander McQueen? Literally his design with some minor alterations.
The designer, Jany Temime, said "Fleur's dress is made in organza and decorated with a pair of phoenixes that face one another on the bodice and form the silhouette of a heart. I chose the phoenix because, like love, it is eternal." I can only imagine the type of controversy this will cause if she doesn't start citing her inspiration. Alexander McQueen fans are a hardcore pack.