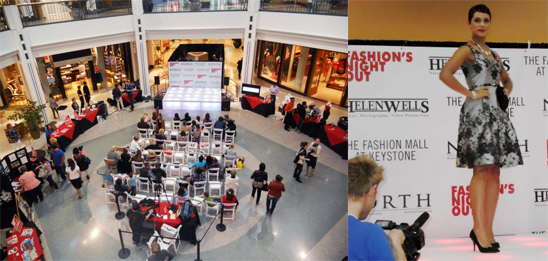 Guest post by Elle Delfine
Since I have been working roughly 18 hour days this week, Fashion's Night Out London was a no-go! Thankfully, my stylish U.S. counterpart (and love of my life) Elle Delfine decided she'd check out the fashion happenings in Indiana to see how Fashion's Night Out worked outside of the fashion capitals.
Enjoy!
Lela 
—
The highly anticipated Fashion's Night Out kickoff of New York Fashion Week was an event celebrated worldwide. As anyone can imagine, I was ecstatic and had the date set in my planner for weeks. Living in Indiana has its fashion downs, but this event had created quite the buzz. The Fashion Mall at Keystone is literally the only Hoosier mall one would visit to find something "high fashion". As soon as I arrived (just a few minutes early) at the Saks Fifth Avenue entrance, I could feel the hum of excitement. Saks Fifth Avenue was definitely the place to be Thursday night. They had a DJ set up and "Sakstinis" being served by an adorable bartender. I believe the "Sakstini" was a cosmopolitan mix.
Makeovers were being given to every woman in the room who wanted one (me included, thanks Kelly!). The photobooth was even set upstairs with funny hats, boas, and sunglasses as props. However, my favorite makeup spot was Sephora, which was doing mini makeovers. I was given a fabulous bold eye and of course had to purchase the shadows to copy the look at home.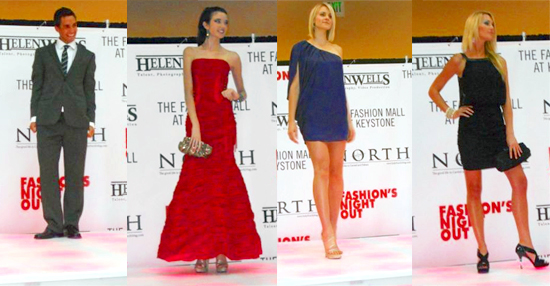 I walked the length of the mall to Nordstrom where the fashion shows were taking place to get a quick scope of the area. I gathered my "Swag Bag" full of coupons and goodies and surveyed the area. While it was extremely beautiful, I was not impressed. I had expected a lot more, however, I acknowledge that this event – for Midwest tastes – was not for the rich and fabulous. It was the for the average women with the thought in mind that those less fortunate would like to attend as well. The area also held an abundance of food sampling; delicious food from Maggiano's Little Italy to Chik-fil-A.
Most of the stores inside the Fashion Mall were having amazing sales for Fashion's Night Out. For example, Caché was giving 20% off regular priced merchandise of $100 or more, if one shopped at Nine West there was a 10% off of the entire purchase, and White House Black Market was giving 20% off the entire store.
Sephora set up a station for people to try their airbrush makeup (so awesome!), and MAC were doing free demonstrations. Also, there were plenty of giveaways.
Four different fashion shows took place that night: Fall Fashion Forecast, Red Carpet Ready, Jeans 4 EveryBODY, and Runway to Real Life. These fashion shows were not meant to show off the runway wear of the most fabulous and outrageous designers, but to show the women of Indiana how to dress "Indy Ready" but still keep their wardrobes looking current. The models appeared to be associates of particular stores, which was neat because it kept the shows very relatable.
Shelvin Mack was there signing autographs. For those who do not follow college basketball, Shelvin was a graduating senior of the Butler University Bulldogs who signed on with the Wizards.
I cannot wait until next year. After their first year, there will be better planning since there will now be expectations in place, and they can improve from the Fashion's Night Out premiere "test run". People will know what they want from it. Events such as these will surely help the retailers in not only the Fashion Mall, but any mall in Indy. That is what is most important.
And, also, people realizing they can love fashion without overspending their budget.