MFW S/S 2012 – Blumarine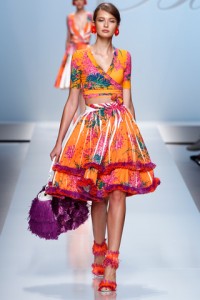 Anna Molinari has created the most wonderfully unhinged collection for Spring/Summer 2012. With no idea of what would come, I was experiencing major lust while the Blumarine designer sent out first looks of covetable feminine sweetness: full-skirted sundresses dripping with the colours of hazy, youthful summers in Capri (and beautiful raffia!).
While every look was being mentally added to my wishlist, suddenly, a fluorescent orange shrunken neoprene biker jacket and matching neoprene micro-shorts emerged. Wake up, Milan Fashion Week! Blumarine is here! Shameless, 3-dimensionally embellished, and seductive – more vibrantly-hued garments strutted out with sequins, patent fabrics, fur, and more neoprene. Molianari is incredibly talented, always creates exciting pieces, and damn, you have to admire the creative cajones.