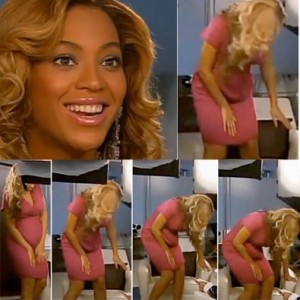 I'm sure the only way you don't know about this is if you purposefully avoid the news, but eh, I'm giving my two cents on the 'Beyonce Fake Pregnancy' enchilada.

Apparently, some reliable sources (aka everyone's eyes) saw Beyonce's baby bump shift and fold in two during an appearance on Sunday Night HD.

The alleged prosthetic baby was pretty obvious as a fake. No belly – of that size – has the ability to do that. Even if made of fat.

But riddle me this, instead of shouting 'Beyonce is a Fake!', might it be worth considering she would wear extra padding simply to avoid the media 'bump watch' that plagues most celebrity women?

Conde Nast have kicked it up a notch. The magazine moguls of Vogue and other major titles have decided to start developing television and online programming based on Conde Nast personalities, articles, and general brands. This entertainment division will be headed by Dawn Ostroff, the powerhouse that who helped develop major hits like Gossip Girl and America's Next Top Model. Movies will also be a focus once it is off the ground. Hello, The September Issue 2!

The most – dare I say – famous blogger in the world has landed her second cover of L'Officiel! This time, Tavi Gevinson/Style Rookie landed the cover in the Netherlands, and was literally stretched to the style max with the help of stylist Alex Aikiu and legendary photographer Jean-Paul Goude.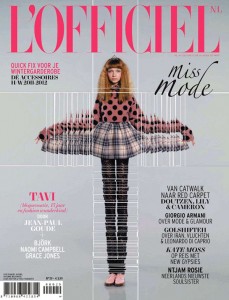 You know the old phrase 'starting off on the right foot'? Abdulkader Sankari and his son Ahmed don't seem to. The duo recently bought fashion label Gianfranco Ferré. After which they didn't attend the first meeting to discuss the brand's relaunch under their ownership. Instead, they sent their lawyer. Woops.

Prince Harry's ex-girlfriend, Florence Brudenell-Bruce, is the new face Aspinal of London! A perfect – albeit slightly scandalous – pick.

Was anyone else a Girl Scout? I was – and it was absolutely legendary to me. I even remember my troop number (though, I still hold a grudge towards never actually 'achieving' my cooking badge). Anyway! The big news is that Girl Scouts are reinventing their badges for the first time since 1987.

Seeyalata to the Fashion, Fitness and Makeup badge (quel horreur!) but a big hello to a Science of Style badge that has girls learn about nanotechnology in fabrics and the chemistry of sunscreens! They will also be introducing badges for locavore awareness, financial literacy, and website design. Can I sign up again?

The Victorias Secret Fashion Show has now become such a big deal, it has almost ended up as a Fashion Week in itself. This year, it is only being taken to bigger heights with both Kanye West and Maroon 5 as the musical guests! Interestingly, both Kanye and Maroon 5 lead singer Adam Levine are dating VS Angels. For Levine, its legs-a-million Anne Vyalitsyna. For West, it is ultra-model Chanel Iman. Quadruplet dance off in a glitter rainstorm, please?

Super Size Me's infamous documentary filmmaker, Morgan Spurlock, is no friend of Abercrombie and Fitch. When he approached the Californicated brand to sponsor his latest project, The Greatest Movie Ever Sold, the conversation went as described:

"Trying to get brands on board for this film was bruising to my ego. Abercrombie & Fitch told me I was fat, ugly, pale and had the moustache of a pornographer so they weren't going to sponsor my film."
Nice.