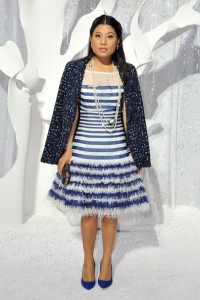 After living in Thailand for eight months, I pretty much consider Princess Siriwanwaree Nareerat to be 'my' princess as much as Kate Middleton is 'my' princess. That's why I was beyond excited to see the gorgeous Princess of Thailand sitting front row at Christian Dior, Chanel, Lanvin, Balmain and Hermes during Paris Fashion Week. Princess has fashion sense for miles.

In a study funded by Procter & Gamble (aka P&G – cosmetics giants), a team of researchers at the Harvard and Massachusetts General Hospital fond that women who conform to societal standards of beauty are perceived more positively than women who do not. The experiment was set up by the team showing participants some female faces with no makeup, "natural" style makeup, "professional" makeup, and "glamorous" makeup for varying amounts of time. Variants like race and age were controlled to keep it as precise as possible.

The study found that a face with any makeup whatsoever is perceived as more likable, competent, and trustworthy than a face sans slap. The only time this trend went off-course was in the 'trustworthy' category when it came to women in the "glamourous" category (but they were still perceived to be hotter and more competent!)

Are these results shocking to anyone? I do wonder how different societies would respond…

L'Oreal has just announced that they are successfully on their way to develop a pill that will prevent gray hairs from showing up. (Are we really getting so concerned with aging that our grandmothers will now all have 'young' hair?) The company plans to have it available for retail within the next four years.

Fashion Week/Month is over! What do we do with ourselves?! Well…apparently we all start to swap fashion houses. In what I consider to be some pretty shocking news, the latest unfortunate soul to lose it's creative chief is Vionnet! After an amazing Spring/Summer 2012 show, designer Rodolfo Paglialunga has been replaced by Barbara and Lucia Croce. Thankfully, it is not a negative situation, as he is leaving to pursue "other personal and professional paths". Hands together, and pray – solo line, solo line, solo line…