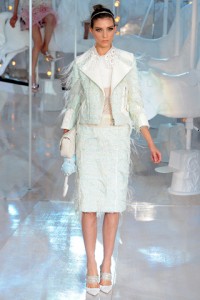 Louis Vuitton is the show that people will be talking about for years to come. Following an onslaught of rumours that Marc Jacobs would be jumping ship and heading to Christian Dior, the show seemed to act as a rebuttal in itself.
Pre-show, the runway area hid a circular structure by covering it in white curtain. When the show began, early (!!), the fashion crowd gasped in unison as the curtain dropped and revealed a full-size white carousel, where every model perched atop a horse.
One by one, each model hopped off the slow-turning carousel and walked the round runway in the sweetest of sixties-inspired styles; capped sleeves, full skirts, silk chambray, and an Easter Egg pastel palette. The embellishments were beautifully understated, with wishbones, feathers, daisies, and minute jingle bells with pearls inside.
In what is now a Marc Jacobs Trend, Kate Moss closed the show – sans cigarette and dominatrix garb of last season – wearing a white, sequined, feathered broderie anglaise dress.
When you put this much effort into a label, it is unlikely that you plan to leave it. Either that, or Jacobs is making one hell of a statement to prove his worth to new business partners.