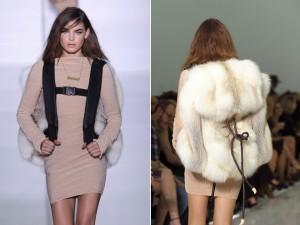 Though I'm not at all surprised by it (haters gon' hate), Kanye West's debut Spring/Summer 2012 collection has – undeservedly – been ripped to pieces by critics.
Though, no, the skill and direction of Prabal Gurung is not yet there, it wasn't there at Gurung's first show, either. Hype and pretense alone does not build a dream collection, and I think with the man attached to the brand, everyone's expectations were of couture expertise.
Rant and rave until you're blue in the face if it untickled your fancy. I actually thought Kanye pulled together a promising collection. A collection more interesting than many other established designers have produced this season – a sincere reflection of his commitment and passion. The entrepreneur created instant must-haves; an oversized fox fur backpack, a salmon dress with two angled zippers, and a nude bandage dress with mummy-like cut outs.
It is a task to avoid the stereotype of a celebrity designer and it is normal to expect a 'nameless' new designer to have their first few seasons chock full of learning curves and small mistakes. Mr. West has set off on the right foot.