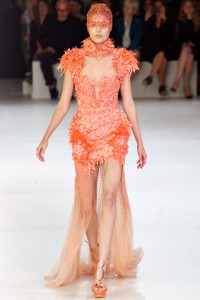 In my head, where I have the design skills of a couturier and a fabric arsenal of my favourite stores in East London, I dream of collections like this.
Delivering demi-couture like only this label knows how, it was incredibly moving to – yet again – feel like Lee McQueen was holding the reigns of the design process. A testament to the absolute brilliance of Sarah Burton.
For her third solo collection for Alexander McQueen, the obsessive detailing was as powerful as ever. Breathtaking and haunting pieces (dresses, dresses everywhere) were modelled after the three G's; Grès for the pleating and draping, Gaudí for the architecture, and Gaia for the oceanic infusion of shells and coral, in-garment.
That's right, ma cherie, Burton was the translucent cherry on top in a fabulous run of oceanic collections for Spring/Summer 2012, aiming to have the MxQueen woman move "like a jellyfish moves in the sea". I've been taken under.