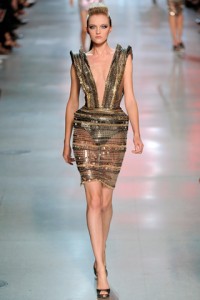 Paco Rabanne has not shown ready to wear since 2006. But damn, did those 5 years produce results.
As it was Manish Arora's first collection since taking over the brand, I will let him explain his Spring/Summer 2012 collection:
"The workmanship is similar [between my own work and Paco Rabanne's work]. We like to work hard, we like to make dresses that take 25 people and 20 days to make and that's the value of Paco Rabanne that I appreciate and that's the common factor".
While Manish has a real flair for sci-fi showmanship, he seemed to put his own agenda to the side and focus on the delicate relationship between revival and heritage. In homage to Paco Rabanne's first collection in 1966 – "12 Unwearable Dresses" – Arora used the concept of dresses made from unconventional materials to show modern, bodycon, panelled chain mail dresses.
The show was fantastical. With models descending to the runway via escalator, the largest number of non-caucasian models in any Spring/Summer 2012 (a very welcome change) and a binge of innovation so turbulent you need a patch for it, Arora has hit yet another home run.