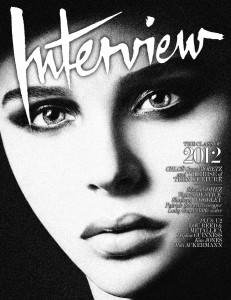 Unlike the rest of us, Chloe Moretz is a 14-year-old girl not only on the cover of Interview magazine's November 2011 issue, but the interviewee of a Drew Barrymore question session on the inside pages. Hide your green eyes, girlfriend.

BARRYMORE: Okay, magic wand time. Fantasy clothes by any designer made especially for you right now. Go.
MORETZ: Oh, no! It's like a ball gown or something amazingly huge and beautiful. It would probably have to be either, like, Valentino or Oscar de la Renta. And then if it was something beautiful that Audrey Hepburn might wear—you know, just perfect and cute and special—it would probably be either Givenchy or Chanel. And if it was crazy—like, amazingly psychotic—it would have to be Vivienne Westwood.
Are you 27 to 50 and simply devastated to be outside of Madonna's clothing customer base? Well, forget "Material Girl" – Generation X will soon be presented with "Truth or Dare by Madonna". As a collaboration with licensing giant Iconix Brand Group; "Truth or Dare" will begin their 2012 launch with fragrance, then follow up with footwear, handbags, and cone bras…- I mean underwear.

Most people with an interest in the fashion industry tend to worship the late Lee Alexander McQueen (with all reason). His designs were inspired, technique flawless, and dedication unparalleled – making it all the more interesting that he drew reference points from Joey Tribbiani. In a recent interview, McQueen's phenomenal 'new' creative director, Sarah Burton, recalls "I remember him saying to me, 'I watched Friends last night, did you see the shirt that Joey was wearing?' […] but then, he would get a Van Eyck book out, so it was this kind of mad mix. There's no snobbery to it."

Have a spare £60,000 lying around? Great! The dress worn by Audrey Hepburn at the Oscars in 1954 (Audrey fans will recall that this is when she won her Academy Award for Roman Holiday) is going up for auction! The dress was originally designed to resemble an outfit that costume designer – Edith Head – made for Hepburn's character in the movie, and Kerry Taylor Auctions (the same auction house which sold Kate Middleton's infamous fashion show dress) will sell the dress November 29th for an expected £60,000.

Last week, (…the man, the machine…) Tom Ford made a personal appearance at Bergdorf Goodman in New York City to promote his new cosmetics line. Reports have come in saying that he managed to reel in $52,000 in sales on that night alone, with "Bitter Bitch" – a chocolate coloured nail polish – being the first item to sell out completely.

Congratulations, Oscar de la Renta! The Couture Council of The Museum at the Fashion Institute of Technology have decided to honour the fashion genius with their Artistry of Fashion award.