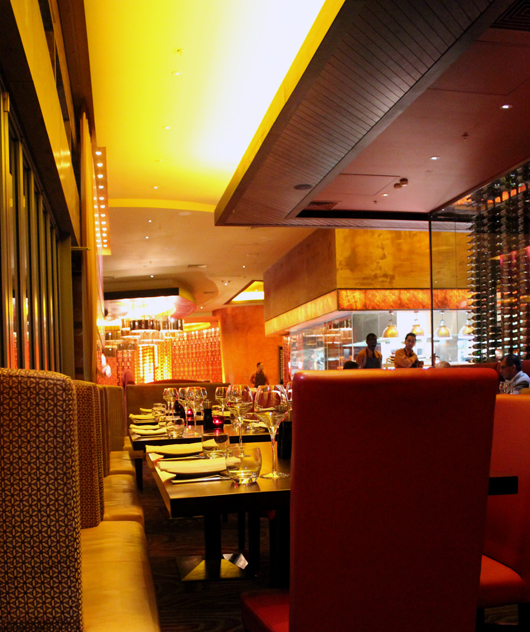 Thanks to my current easy access to the restaurants at Westfield from work, an evening meal at one of their amazing restaurants is an easy treat. Disclaimer: This is not 'mall food'.
Last week, a few friends and I trotted over to The Meat & Wine Co, which is the restaurant right on the outskirts that looks like it is on fire. You simply can't miss it when making your way from Shepherds Bush Underground to the Westfield premises.
The design is one of the most obviously striking elements – there is a mass of African-esque colours and textures that mimic the menu of the restaurant itself. With towering walls of wine bottles surrounding us, we went in for quite the food experience:
Mixed Bread Platter Garlic, Herb and Bruschetta
Seared scallops on a bed of grilled asparagus, and Rump Steak with Béarnaise sauce
MW GOLD fillet steak with hand-cut chips
Fillet of springbok marinated in a red wine, cinnamon and star anise reduction, served with herb crushed potatoes and a red currant jus (not my dish, but after a taster, I would say the best thing on the menu!)
Catch of The Day: Dover Sole
And, of course, total dessert carnage. We shared two dishes between the four of us but got so caught up in the deliciousness that we forgot to pause for a picture until they were half demolished.
Crème brûlée infused with Madagascan vanilla bean, served with a special spiced sweet pastry and strawberry sorbet
Warm dark chocolate fondante, with white chocolate and pistachio heart, served with pistachio ice cream
The Meat and Wine Co is perfect for anything from a girls night out to a romantic dinner. Rich flavours, tons of variety, and some truly impressive cocktails (my recommendation? The Raspberry Debonaire). A cut above, indeed.