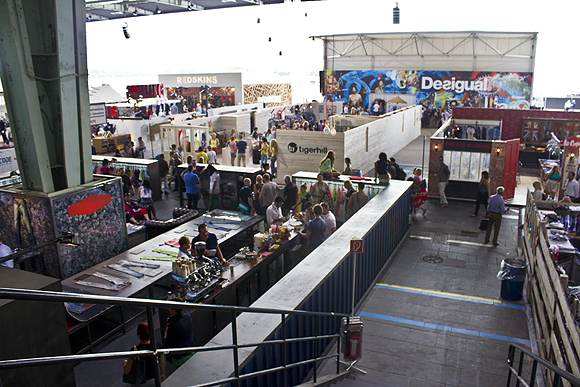 As you may have seen from my incessant tweeting, I recently returned from one of the hautest trade shows this side of the Atlantic: Bread and Butter Berlin.
I have been to a few trade shows before, but this one trumped the others on size alone. Bread and Butter – I have to Google why it's called that – takes over Berlin's Airport Tempelhof. From baggage carousels to passport control to the runways themselves, international brands set up stalls to impress womenswear and menswear buyers from around the world. And impress they did. I can only imagine the orders that these brands manage to win in just a few days. (Millions? Yes, millions.)
As well as hanging out at Havaianas' amazing beach stall (the purpose of my trip – but more on that later!), I browsed hundreds of Spring/Summer 2013 delights. Some of my favourite set ups included George, Gina & Lucy's pills (candy)/neon signs (below)/lip tattoos, Karl Lagerfeld's "Lagerfeld" collection (come on, it's Uncle Karl), Desigual's printed skirts (and – ahem – Veuve Clicquot cocktails), Black Widow's jackets (I could wear everything – impeccable), Supertrash (you could build a full wardrobe from their collection), Mavi's denim kitchen (where they were hand-dying), horse dressage (I kid you not) at Polo Team, and more.
There was a LOT to be seen and I had the most wonderful time.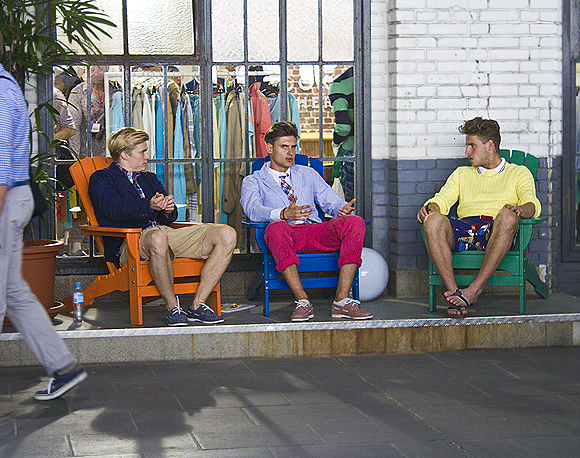 About half my designs are controlled fantasy, 15 percent are total madness, and the rest are bread-and-butter designs.
– Manolo Blahnik