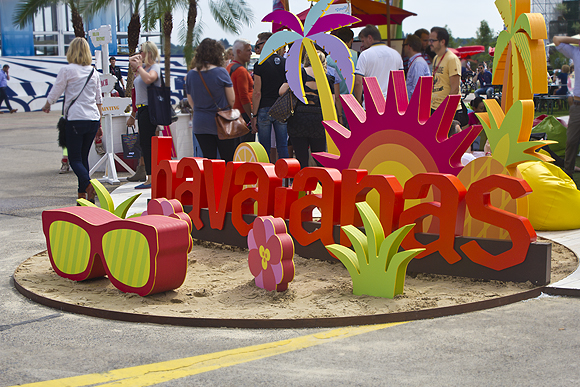 As I have mentioned previously, the purpose of last week's trip to Bread & Butter Berlin was to visit the incredible Havaianas Always Summer stand in honour of their 50th birthday!
For this very important anniversary, the team at Havaianas took it upon themselves to build an amazing Brazilian beach scene to cater to buyers and press alike. No better place for a birthday party than the most important trade fair in Europe, right?
Like the other brands at Bread & Butter, the focal point of the Havaianas stand was a presentation of their 2013 collection. Full of brand-synonymous colour, there are some interesting new features coming to Havaianas products, as well as a brand extension – but I can't say too much at this point!
Aside from the upcoming collection, the "beach hut" also served as a visual walk-through of Havaianas flagship products and brand history. I learned that while the traditional shoe was produced in 1962, the arrival of the iconic coloured top only came about in 1994, and the only real structural change to the Havaianas sandal was in 2006, when they began to offer a more slim, feminine option in addition to the standard sandal.
Surrounding the beach hut, Havaianas were also offering birthday cake, feet painting, and "Make Your Own Havaianas" stations which were going down a storm. In fact, a huge majority of the tweets that were being hash-tagged to #bbberlin were talking about the custom Havaianas stations and special 50th anniversary pin that came with it! It was a fabulous accomplishment and – as I tweeted – definitely the best trade show set-up I've seen.